Udemy – Drawing Stylized Hair

2023-01-2

Video Tutorials
/
Photoshop/Digital Panting tuts

462

0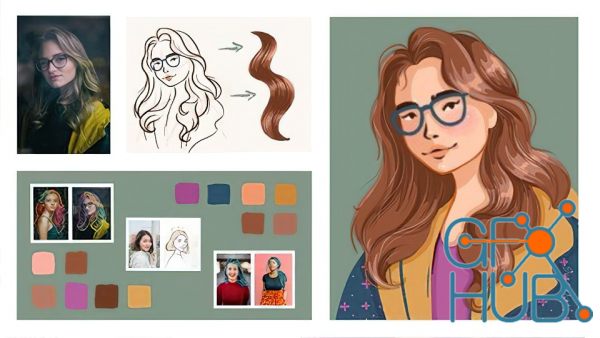 Tips for Portrait Illustration
What you'll learn
Drawing stylized character portraits with different hair designs
How to use simple shapes to draw hair
How to simplify real-life references in stylized character portraits
How to color and share dhair
Requirements
You should be comfortable with trying things on your own
You should know how to work with the Procreate app
You should have iPad supporting Procreate & Apple Pencil or other supported stylus
Description
Learn to draw stylized people portraits with different hair designs
Drawing stylized people portraits with cool hair is a lot of fun. It can add so much personality and uniqueness to your character illustrations.
If you want to feel more comfortable drawing stylized people portraits with different hair designs, this class is for you!
We will design stylized hair for character portraits using simple shapes. You get more comfortable and have a solid starting point when drawing hairstyles for your character illustrations.
To make learning fun and personal, I will share many tips and tricks you can use when designing your stylized portraits.
You will learn:
How to use simple shapes to draw hair
How to draw stylized character portraits with different hair designs
How to work with references which will help you with designing hairstyles for your characters
How to simplify the real-life in your character design
I will be using Procreate, but feel free to use any drawing software or medium you prefer.
In addition, you will also get practice sheets with references and a character color palette as a freebie.
Let's start expanding our horizons and drawing people portraits with awesome hair designs!
See you in the class! ♡
© Copyright Iva Mikles | All Rights Reserved | Class content & structure for educational purposes only
Who this course is for:
Digital Artists
Illustrators
Hobby Artists
Graphic Designers
Download links:


Archive
« September 2023 »
Mon
Tue
Wed
Thu
Fri
Sat
Sun
1
2
3
4
5
6
7
8
9
10
11
12
13
14
15
16
17
18
19
20
21
22
23
24
25
26
27
28
29
30