Skillshare – Learn Procreate: Scribble portraits anyone can do

2022-10-25

Video Tutorials
/
Photoshop/Digital Panting tuts

104

0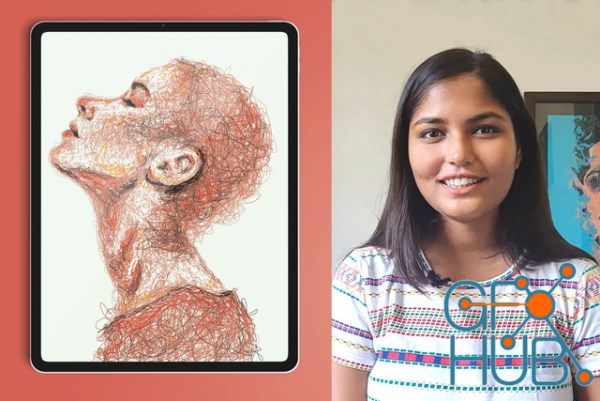 Skillshare – Learn Procreate: Scribble portraits anyone can do
MP4 | ENG | 10 Lessons (40m)
This class is going to be my approach to a scribbled portrait done in real-time. You can whip one up in 15-30 minutes, just like I did and no part of this course is sped up so you can see exactly how I do each layer as I talk you through my process. If you want, because this is real-time, you can paint along with me as well!
I will also be covering some of the basic tools in procreate that we'll be using today so it's great for people who are new to procreate as well as people who've been on it for a while. I'll talk you through the tools we'll be using, some fun tricks you can use, the palette I'll be using, and we'll also be working with a reference for the duration of this course.
I'll be covering the basics of scribble art as well and the process that has worked for me over the years. How I add my shadows and highlights to the piece, how we create some interest in the illustration using a pop of color as well how we add depth and definition to the overall sketch.
WHAT YOU'LL LEARN
Basics of procreate
I'll guide you through all the pens and tools and tricks we'll be using for this artwork. This is a great and quick introduction to procreate for beginner artists who've just gotten their hands on an apple pencil!
Intro to scribble art
we'll cover how to add depth and definition to your illustration using scribbles with a very limited palette. These are the techniques I use regularly in my scribble work and these techniques work on both digital art as well as on paper with a fine liner pen.
Using a limited Palette
For this class we will only be using a limited palette of 5-6 colors so it doesn't get too confusing but the end result will still be super interesting to look at.
Using a reference
Procreate offers some great tools for working with references that I will be highlighting in this class. Using a reference means you don't really need a lot of knowledge about portrait drawing so anyone can try their hands on this. It also helps to enhance your current knowledge of portrait drawing.
Adding all our different layers
We will be working layer-by-layer on this piece, working our way from the lightest color to the darkest shadow tone. I'll guid you through the process so you can follow along with me.
Adding interest to the piece
Finally, we'll be adding some exciting colors to the piece towards the end just to have some fun overall, and add interest to the illustration.
FINAL THOUGHTS
If you have been following my work, you know how much I love scribble art! It's all about flow, it's all about intuition and following your hand and your mind where it takes you. It's basically art therapy, and on top of that, they're so stinking easy and fun to do!
Download links: