Udemy – Jewelry Design With Procreate

2022-09-9

Video Tutorials
/
Photoshop/Digital Panting tuts

117

0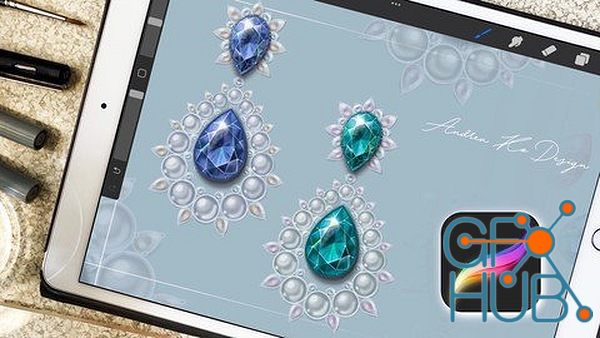 Learn everything you need to know on how to design jewelry with the most popular drawing app: Procreate!
What you'll learn
Learn how to navigate Procreate.
You will learn about the when and the why, not just how to use the various features of Procreate
Preparation before starting to draw. Example: Building different gemstone cuts template.
Learn how light effect gemstones.
Learn techniques on how to render jewelry professionally.
Learn how to draw every kind of beautiful brilliant cut diamonds and colored gemstones.
Learn different ways of picking colors for gemstones.
Learn how to build diamonds and colored gemstones template for future use without drawing them all over again.
You will have practical exercises to practice your knowledge.
Requirements
iPad (iPad air, iPad Pro or a recent iPad Mini)
Apple Pencil (A stylus pen with pressure sensitivity is crucial)
The Procreate app from the App Store.
No prior experience necessary, it's beginner and intermediate friendly.
Description
Creativity is not enough to show your customers how remarkable your designs are. Knowledge and rendering skills are also important to demonstrate your ideas in a more vivid way. I designed these training courses for people with or without related background to learn and sharpen their skills for jewelry design and rendering.Jewelry Design with Procreate is the first series of courses that I am offering. Procreate has significantly affected the way people draw and sketch. It is an incredible tool and I'll show you how to use its powerful functionalities to easily create and design your own jewelry.Here is what we will be learning in this course:We will introduce tools in ProcreateWe will be learning shortcuts and options associated with toolsAfter going through tools, we will start with practical practice to get familiar with how to use themSince we are drawing digitally, I will introduce how to get faceted gemstone outlines done in a more efficient wayAnd how to export your own template for future useWe will also explain the theory of how light affect gemstones before drawingCreate you own brush category for this courseDemonstrate a few ways to pick colors for gemstones and build your color palettesLearn how to draw beautiful brilliant cut diamonds and colored gemstonesIn final project, we will put everything we learn in previous classes to finish a colored gemstone ringThe skills learned in this course can be flexibly converted and applied to drawing boards, desktop computers, tablets, or different drawing software like Photoshop, Painter etc...
Download links: