Udemy – Complete Adobe Illustrator Megacourse: Beginner to Expert

2022-12-26

Video Tutorials
/
Illustrator/Graphics Design tuts

640

0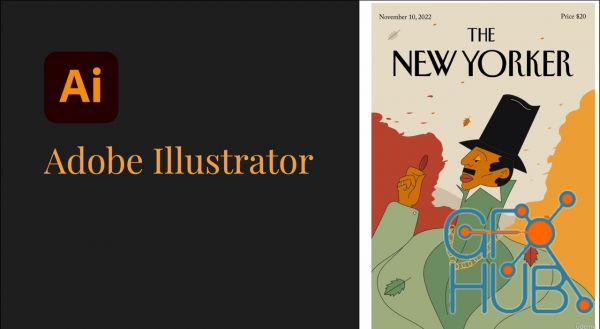 Learn how to use Adobe Illustrator for graphic design and illustration like a pro with this project-based course!
What you'll learn
How to use Adobe Illustrator
The principles of graphic design and illustration
How to create print and digital content
The effective use of tools and elements in Adobe Illustrator
The application of basic shapes, gradients, masks, and blending
Adobe Illustrator's effects and brushes and how to apply them
The principles of drawing in Adobe Illustrator
How to design a logo
The principles and use of iconography and typography
How to create spot illustrations, geometric grid-based designs, and posters
How to make charts and graphs and 3D design
How to create pattern designs, zines, and isometric illustrations
Tips on finding and developing your own style
Requirements
No previous knowledge of Adobe Illustrator required
A desire to learn!
A positive attitude!
Description
Learn all there is to know about Adobe Illustrator!Design and illustrate like a pro!Have you ever felt like you want to create beautiful digital art? In today's world of technology, graphic design and digital illustration have become an integral part of our lives. Maybe you want to design your first logo, create a birthday invitation, or make eye-catching illustrations. Whether you're new to working with Adobe Illustrator, or a professional wanting to advance your skills, this is for everyone. This course will take you on a journey in the world of graphic design, making you a pro in no time.In this course we will teach you everything you need to know in order to get started using Adobe Illustrator - from graphic design to illustration. Starting from the basics of the program's interface and tools, you will move on to studying about basic shapes, effects, and different types of design. You will learn diverse methods of drawing, as well as dive into the topics of typography, iconography, graphs and charts, and animations. You will even learn how to create your own logo and brushes, design rooms and buildings in isometric views, create 3D models and fun gradients, lay out a poster, and so much more.Our instructors have years of experience not only in graphic design, but also in teaching, and the expertly-crafted syllabus is designed to be easy to follow and thorough. We've even included plenty of real-life examples and digital content for you to study. That's why this is the only Adobe Illustrator course you'll ever need to make your content effective and aesthetically pleasing!Start creating today!After taking this course, you will be able to:Use Adobe Illustrator effectively for your designs and illustrationsCreate powerful and eye-grabbing social media and website contentUse all of the tools available to design graphics and create illustrations for yourself or your customersNavigate around the Adobe Illustrator application with easeCreate different types of illustrations and graphic design templatesBuild professional designs for different purposes
Who this course is for
Freelance graphic designers and illustrators wanting to boost their career
Beginner designers and anyone interested in graphic design and illustration
Entrepreneurs or business owners wanting to create and grow their brand
Digital marketers or virtual assistants wanting to impress their clients with awesome content
Download links:


Archive
« March 2023 »
Mon
Tue
Wed
Thu
Fri
Sat
Sun
1
2
3
4
5
6
7
8
9
10
11
12
13
14
15
16
17
18
19
20
21
22
23
24
25
26
27
28
29
30
31