Udemy – Fantasy Glow Effects // With Colored Pencils

2023-02-1

Video Tutorials
/
Drawing/Painting tuts

173

0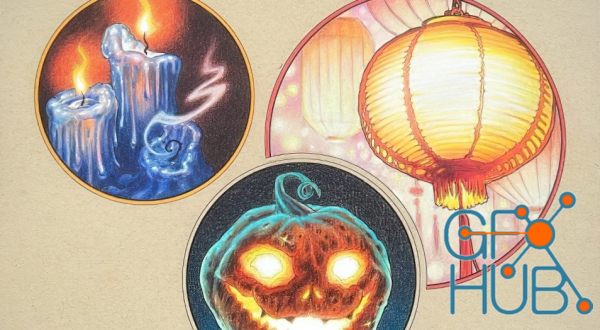 Learn from a professional artist.
What you'll learn
Learn to color bioluminescence effects
Learn to color magical glowing potions
Learn to color bioluminescence effects
Learn to color fantasy glowing characters like fairies
Practice on 10 original illustrations provided by the artist
Requirements
Basic coloring skills
Description
After completing this four-section course, you'll be able to add the following effects to coloring pages:
BIOLUMINESCENCE - fireflies, glowing mushrooms, and glowing jellyfish;
POTIONS - mysterious liquid concoctions in various colors;
LANTERNS - traditional candles, paper lanterns, and jack-o-lanterns;
and FAIRIES (or other humanoids)- adding either dramatic back-lit effects, or a soft fairytale glow.
Each of the four sections, or lessons, is presented in short, bite-sized video lessons.
All effects will be taught with colored pencils on paper. My lessons are not brand specific. You can complete this course with any brand colored pencils, as long as you follow my concepts and strategies.
Additionally, I provide you with ten unique coloring illustrations that I drew just for the purposes of this course.
On the technical side, I'll be diving deep into various shading techniques, focusing on tips and tricks for smooth color-to-color transitions, and offering proven color combos.
I am a big advocate of teaching students WHY something works before delving in to HOW to achieve that result. With every one of my courses I aim to teach you how to make your own artistic decisions and apply my technique to other coloring pages by other artists, to your own drawing.
Published 1/2023
Created by Lisa Mitrokhin
MP4 | Video: h264, 1280x720 | Audio: AAC, 44.1 KHz, 2 Ch
Genre: eLearning | Language: English | Duration: 78 Lectures ( 6h 44m ) | Size: 8.62 GB
https://anonymz.com/?https://www.udemy.com/course/fantasy-glow-effects/
Download links:


Archive
« March 2023 »
Mon
Tue
Wed
Thu
Fri
Sat
Sun
1
2
3
4
5
6
7
8
9
10
11
12
13
14
15
16
17
18
19
20
21
22
23
24
25
26
27
28
29
30
31