Udemy – Soft portraits with Procreate

2020-12-22

Video Tutorials

420

0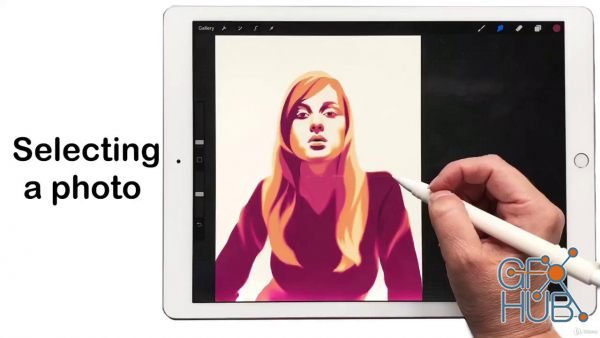 Udemy – Soft portraits with Procreate
What you'll learn
How to make soft portraits with Procreate
Learn about values
Learn how to soften the portrait
Requirements
Drawing skills are not necessary
Description
In this class, I will teach you how to make a soft portrait with Procreate.
What is a soft portrait? It's a portrait made with flat shapes, where we will smudge the edges to get a soft look.
This is a follow up to my class 'Flat illustrations 5 styles' where I was focusing on full body characters. Here we will focus on portraits, but it can be used fo any subject.
I have gathered for you more than 100 copyright free reference photos here, where you can pick one, or follow along with the one I use in class, or use a personal photo.
I'll show you how to simplify and trace the shapes over the photo
Then we will find the values and fill the shapes
Then we will discuss color palette, with different ways to find the colors you want
We will then work on the line art to integrate it with the shapes
Finally we will smudge the edges, paying attention to lost and find lines
At the end you can play with the new features in Procreate 5 to have different effects
Who this course is for:
Beginner digital painters
Download links: