Skillbox – Decorating in interior design 2020 (RUS)

2020-12-21

Video Tutorials

507

4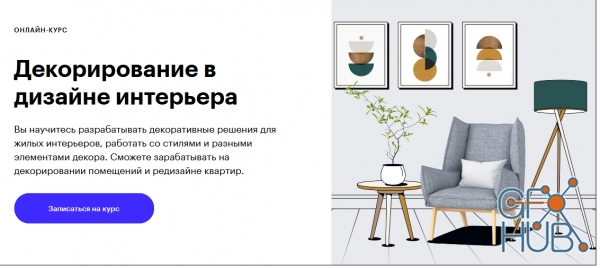 Skillbox – Decorating in interior design 2020 (RUS)
You will learn how to develop decorative solutions for residential interiors, work with styles and different decorative elements. You will be able to earn money by decorating premises and redesigning apartments.
---------------------------
Декорирование в дизайне интерьера
Вы научитесь разрабатывать декоративные решения для жилых интерьеров, работать со стилями и разными элементами декора. Сможете зарабатывать на декорировании помещений и редизайне квартир.
Чему вы научитесь:
Подбирать стиль для интерьера. Узнаете, какие современные стили существуют, как их можно сочетать между собой и какими средствами реализовать задуманный дизайн-проект.
Зонировать пространство. Освоите принципы эргономики и планировки разных комнат, научитесь делить помещение на функциональные зоны, чтобы сделать пространство более красивым и удобным.
Работать с элементами декора. Познакомитесь с разными видами отделочных материалов и красок. Научитесь подбирать мебель, использовать в декоре флористику и элементы текстиля, чтобы создавать целостный интерьер.
Работать с заказчиком. Научитесь выяснять, чего на самом деле хочет заказчик, сможете работать с возражениями и создавать концепцию декора в соответствии со вкусом и желаниями клиента.
Работать с цветом и светом. Сможете использовать свет как полноценный элемент декора, узнаете, какие бывают светильники, как их подбирать и расставлять. Поймёте, как цвет влияет на настроение в комнате, научитесь сочетать цвета.
Контролировать работу подрядчиков. Научитесь реализовывать ваши идеи на практике. Узнаете, как коммуницировать с подрядчиками, находить эффективные решения под любой бюджет и принимать готовую работу.
Download links: