Udemy – Blender for 3D Printing – Design a Pet Product (204)

2023-02-4

Video Tutorials
/
3D Tutorials

389

0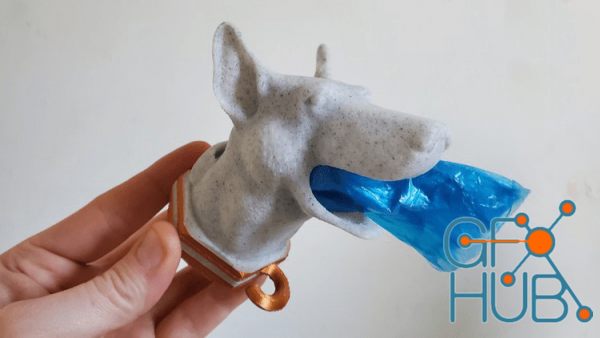 Create 3D Print Products with Blender (2023)
What you'll learn
Intro to Blender's Bolt Factory
Rapid Prototyping Techniques
Design a 3D Printed Product Quickly
Flexible Sculpting Workflow
Design Fundamentals for 3D Printing
Basics of 3D Modeling for 3D Printer
Prototyping for 3D Printed Products
Theory of 3D Designing for a 3D Print
Blender Product Design Overview
3D Printing Tool Box - FREE Blender Add On
Bool Tool - FREE Blender Add On
How to Design for No Rafts & No Supports
How to build "Flexible" Design Projects like a Pro
Blender Modeling and Sculpting for 3D Printing Workflows
Easy Guide to Prototype Modeling
Adaptive & Flexible Design Techniques
Practical Designing Theory + Application
Requirements
Basic Understanding of Blender for 3D Printing
FREE Download of Blender - 3D software
Ruler or Calipers
PC, Mac, or Linux Computer
Description
In this intermediate course we'll be tackling a complex product design of a dog inspired pet product. You'll learn the steps to approaching a completely original product design. Everything from sketching ideas, using reference images, how to manipulate Blender's bolt factory, and more.
THIS IS AN ADVANCED COURSE:
This course is not a beginner course. If you are not comfortable in Blender please see our suggested pre-requisites below;
Pre-requisites:
Blender for 3D Printing - Beginner Basics & Effects (101) on Udemy.
Watch Time: 2.15 hrs
Design Estimate: 5 hrs
Product Design Planning
Reference Image Workflows
Intro to Blender's Bolt Factory
Rapid Prototyping Techniques
Download links:


Archive
« March 2023 »
Mon
Tue
Wed
Thu
Fri
Sat
Sun
1
2
3
4
5
6
7
8
9
10
11
12
13
14
15
16
17
18
19
20
21
22
23
24
25
26
27
28
29
30
31