Udemy – Blender For 3D Printing – Sculpting Brushes Explained (202)

2023-02-1

Video Tutorials
/
3D Tutorials

324

0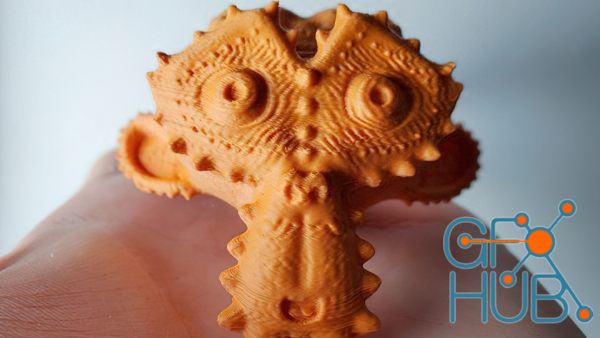 Learn Every Sculpt Tool in Blender (2023)
What you'll learn
Sculpting Fundamentals for 3D Printing
Basics of 3D Sculpting for 3D Printer
Beginner Sculpting for 3D Printed Products
Theory of 3D Sculpting for a 3D Print
Blender Sculpting Tools Overview
3D Printing Tool Box Workflows- FREE Blender Add On
Bool Tool Workflows - FREE Blender Add On
How to 3D Sculpt for No Rafts & No Supports
How to build "Flexible" Design Projects
Sculpting Brush Introductions & 3D Printing Workflow
Basics to ALL Sculpting Brushes and Tools
Basics to Adaptive & Flexible Sculpting
Basics to Practical Sculpting
Requirements
FREE Download of Blender - 3D software
Ruler or Calipers
PC, Mac, or Linux Computer
Description
This course you'll be learning the basics of Blender's powerful sculpting tools by learning the use case for each sculpting brush. With our exercises you'll learn Adaptive Design Techniques that will allow for rapid design changes without compromising your design. You'll even learn about the new Blender sculpting tools like the cloth brush and more. We can't wait to see what you 3D design with your new super powers.
All Blender Sculpting Brushes Explained:
What You'll Learn: This course is built to get you comfortable with all the sculpting brushes inside Blender as soon as possible, so that you can start sculpting your own 3D print designs ASAP.
Goal: This course is all about learning the 3D print sculpting workflow and how to use every brush and tool within a few hours. By the end, you will better understand every brush and when you should use it.
Watch Time: 4 hrs
Design Estimate: 6 hrs
Blender Sculpting Workflow
40+ Sculpting Brushes & Tools (explained)
Sculpt Theory for 3D Printing
Remesh vs Dyntopo vs Multi-res
Using Texture Brushes *No Tablet Required*
Downloadable Videos, Projects, & Textures
Access to the Community Discord
Published 2/2023
MP4 | Video: h264, 1280x720 | Audio: AAC, 44.1 KHz
Language: English | Size: 3.75 GB | Duration: 4h 11m
https://anonymz.com/?https://www.udemy.com/course/blender-sculpting-brushes-202/
Download links:


Archive
« March 2023 »
Mon
Tue
Wed
Thu
Fri
Sat
Sun
1
2
3
4
5
6
7
8
9
10
11
12
13
14
15
16
17
18
19
20
21
22
23
24
25
26
27
28
29
30
31