Udemy – Complete 2D + 3D Autocad Course From Beginners To Expert 2022

2022-12-19

Video Tutorials
/
3D Tutorials

332

0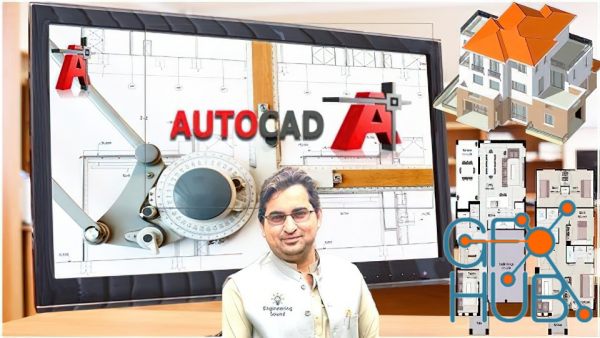 A Complete course for beginners an advance Professional Level
What you'll learn
Master advanced AutoCAD tools tools and techniques
You will be able to start earning money from your AutoCAD Skills
Learn the basic skills of AutoCAD: shapes, text, modification, layers, and dimensions
All AutoCAD 2D & 3D Commands in Practical way
How to make Plans
How to make elevations
How to make Sections
Civil Architectural Drawings practice
How to make Isometric Drawings
Prepare for the AutoCAD certification exams
Work with projects like floor plans, circuit diagrams and mechanical drafting
Feel comfortable using AutoCAD to create your own building layouts from scratch.
Requirements
Basic Computer Knowledge.
Computer with AutoCAD Software installed
Description
The only course that will teach you AutoCAD and Architectural Drawings and Projects from beginner level to Job ready. This course will quickly allow you to start using AutoCAD and getting paid for your AutoCAD skills. Are you experienced in AutoCAD but only know how to model in 2D?! This course will introduce you to the 3D concepts and commands and allow you to level up your AutoCAD skills. Whether you have used AutoCAD for years or have just completed our 2D course, this course will show you how to create in 3D and really make your models come to life.Major High Points of the Course:· Draw Floor plans· Complete Residential Building Projects· 3D & Rendering training· Make your own custom AutoCAD Templates· Use layer states manager for color theme-based work· Use layer states manager to change color profiles of all layers with a single click· Change units of existing drawings with a single command· Draw elevation plans from floor plans· Draw sectional elevation of a building· Draw sectional elevation of a staircase· Draw site plans· Make Custom made Door, Window Blocks· Prepare Project for submission· All lesson files included for download· 1 Year of Training support· AutoCAD command shortcuts list· New features of AutoCAD 2018, 19, 20, and 2021 versions included· Extra practice drawings and projects at the end of the course· Interface: Start Tab, Templates, Application Menu, Quick Access Toolbar, Info Centre, Layout Tabs, Status Bar, Options, Mouse controls, Navigation, Object Selection,· Drawing Tools: Line, Polyline, Circle, Rectangle, Polygon, Ellipse, Hatch, Gradient, Spline, Object Snap· Drawing Methods: Absolute & Relative Coordinates, Orthomode, Grid & Snap, Polar Tracking· Modification Tools: Move, Copy, Stretch, Rotate, Mirror, Scale, Trim, Extend, Fillet, Chamfer, Array, Erase, Explode, Offset, Align, Join,· Annotation: Text, Dimension, Leader, create own styles· Layers: Color Manager, Linotype Manager, Line weight Manager, Creation, properties, application, functions· Blocks: Create, Edit, Insert, Design Centre· Palettes: Properties, Blocks, Layers, Command-Line, Design Centre· Layout: Viewports, Page Setups, Printing· Important Note: I continually update this course to keep it up to date with the new releases as well as the addition of new videos and practice exercises.· I look forward to seeing you in class!Become a Professional AutoCAD Drafter· With the skills learned in this course, you'll have a highly-desired skill that can help you get jobs and make money as an AutoCAD Drafter.· AutoCAD is an industry-standard and most widely used application when it comes to CAD software, so it's important for you to learn it if you want to be a professional designer.Drawing exercises:This course includes module-ending questions in addition to a section entirely devoted to "practice drawings" and tasks like floor plans, circuit diagrams, and otherInstructor support for questions:I understand that students will have questions related to the course and its necessary also for a healthy learning process hence I encourage students to ask their questions related to the course in the Q&A section of the course. I answer each and every question as soon as possible and so far, I have answered every single course-related question from students on Udemy Q&A section.If you are still thinking about whether you should enroll or not then I encourage you to watch some of the preview videos and test the waters before you actually enroll in the course and even after enrolling if you feel that this course failed to meet your expectations then you can always ask for a refund within 30 days of purchase.Our Promise of Contentment & GuaranteeIf you aren't happy with your purchase, we have a 30-day 100% money-back guarantee. There's literally no reason to hesitate!Enroll today, and we'll see you in the classroom!Pre-requisitesYou need to have access to AutoCAD software (student, trial, or commercial version) for this course. This course can be used with AutoCAD LT as well.
Download links: