Udemy – Master AutoCAD 2020 – with Most Detailed Explanation

2022-12-6

Video Tutorials
/
3D Tutorials

256

0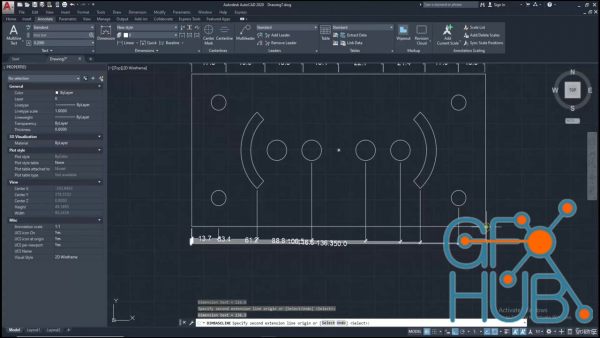 Master AutoCAD like never before with most in-depth & Detailed explanation
What you'll learn
Complete Understanding of commands with examples
At the end of the course you will be able to create professional drawings
Prepare for AutoCAD certification Exams
Make your ideas come to life
Import and Export pdf files
Learn the basic skills of AutoCAD: shapes, text, modification, layers, and dimensions.
Understand the importance of viewports & Paper Layout.
You will be able to start earning money from your AutoCAD Skills.
Take hand drawings and recreate them using AutoCAD.
Able to load in other drawing files to use as External References.
Requirements
Basic computer knowledge
Intent to learn
Description
When I uploaded my first course on "Architectural Working drawings", students asked me to upload AutoCAD as well. So here we are.This is the most comprehensive and well-explained course in AutoCAD. In this course, you will learn AutoCAD from scratch covering the majority of the commands at the Beginner level.  What is this course all about?This course is a full-length AutoCAD 2018, 19, 20, and 2021 learning package that contains almost all of the topics that you will ever need to work with this software. The course is designed for the beginner as well as seasoned users.A beginner can start learning the software right from scratch by following the course along just from lecture one. A seasoned AutoCAD user will also find this course very comprehensive and they can choose the topics they want to learn about skipping the basics.Benefits of taking this course:During the course, you will be following along to create a building layout from the dimensions given. After this course, you will have all the skills necessary to create your own drawings whether for business or leisure purposes.Become a Professional:With the skills learned in this course, you'll have a highly-desired skill that can help you get jobs.AutoCAD is an industry-standard and most widely used application when it comes to CAD software, so it's important for you to learn it if you want to be a professional designer.For more clarification, you can look at the content of this course and some videos that are available for free so that you can get to know what is being taught. NOTE: This course has been recorded on the PC version of AutoCAD. If you use a MAC then the commands and locations may vary. I do not have a MAC so am unable to help with this but a quick Google search should help you.
Who this course is for
Anyone who has interest in AutoCAD or Software Learning can take this course.
Highly recommended for Interior Designers & Architects
Download links: