CGCookie – OFF-ROAD: Rig and Animate an RC Monster Truck in Blender

2022-12-18

Video Tutorials
/
3D Tutorials

659

0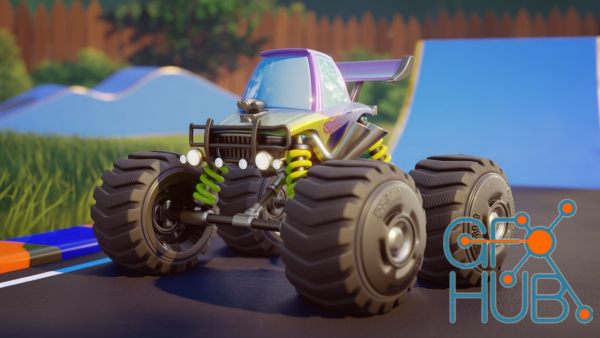 Rig and animate a Monster Truck with fully realistic driving properties, including spring suspension, ground detection and real-life Ackermann steering. Automate the driving processes with Python script (no coding experience needed) and create dynamic controls using 100% Blender only.
"The trucking best course to make you a Blender rigging monster"
Starting with a pre-made Monster Truck model, learn how to create a vehicle rig in Blender. No modeling involved, just 100% vehicle rigging and animation skills.
In the second part of the course, we will animate the truck, make it loop around and do a jump with freehand animation.
The best part: this course will give you the skills for *any* vehicle rigging and animation project in the future.
In this beginner-friendly Blender course, you will...
start with a ready-made Monster Truck model
get a quick primer into rigging (perfect if you are just starting out)
rig the car springs and use drivers to make the wheels go around
rig the truck
http://cgcookie.com/courses/off-road-rig-and-animate-an-rc-monster-truck-in-blender
Download links: