Domestika – Creating 3D Compositions in Cinema 4D

2022-09-27

Video Tutorials
/
3D Tutorials

329

0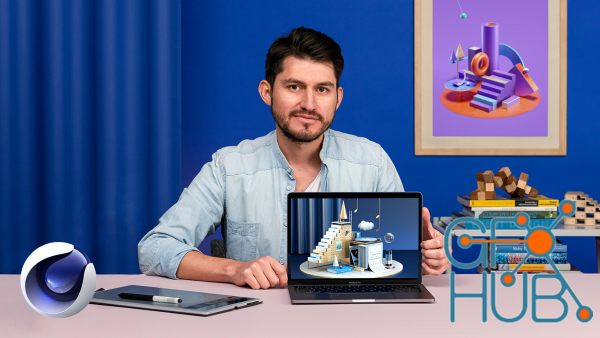 Domestika – Creating 3D Compositions in Cinema 4D
Learn how to conceptualize your ideas and create your own 3D scene with Cinema 4D and Octane Render
If you are drawn to 3D modeling, geometry, and the combination of different colors and materials, this course by Francisco Cortés is for you. The industrial designer and illustrator's work is focused on creating still images in which space and its elements create a clear, clean, and even poetic atmosphere. He has developed industrial design projects for brands including Coca-Cola, Facebook, and Levi's, and 3D illustration projects for Escher Relatividad, Bestiario, and la Casa del Poeta.
In this course, Francisco teaches you his processes for conceptualizing and creating 3D illustrations. Learn how to model, texture, and render your compositions in an agile and professional way using geometric shapes and figures.
Start the course by getting to know Francisco, his career as an industrial designer, his incursion into illustration, and how he began combining both in his 3D illustrations. Then, he shares with you his main influences.
Learn how to find inspiration and conceptualize ideas for your final project. Create a sketch and bring it into Cinema 4D, where you will learn the main tools and how to customize your work environment.
Discover how to move your scene within the software and learn how to give volume and shape to objects. Create your composition by modeling the centerpiece in 3D and working on the details.
Using OctaneRender (or the render engine of your choice), discover how to create materials and textures that will help you inject life and color into your scene. See different lighting schemes and how to set up Octane's parameters. From there, move on to rendering your final 3D illustration.
Add a few finishing touches to your project to achieve an eye-catching and professional result, post-producing your images in Adobe Photoshop. Finally, see how to present your project, either in your portfolio or on social media.
What is this course's project?
Create a 3D scene in which you will showcase the objects, shapes, phrases, colors, and even animals that you like the most and which represent your style.
Who is this online course for?
Designers, illustrators, creatives, or anyone who is interested in 3D modeling, geometry, abstract spaces, and the combination of colors and materials.
Requirements and materials
You will need a computer with a 3D modeling program and a render engine installed (the teacher uses Cinema 4D and OctaneRender).
To take this course, it is highly recommended to have access to Adobe Photoshop and Illustrator, as well as basic knowledge of the software.
Download links: