3DMotive – Stylized Creature Texturing Volume 1, 2, 3 (ENG/RUS)

2020-12-28

Video Tutorials

1 558

0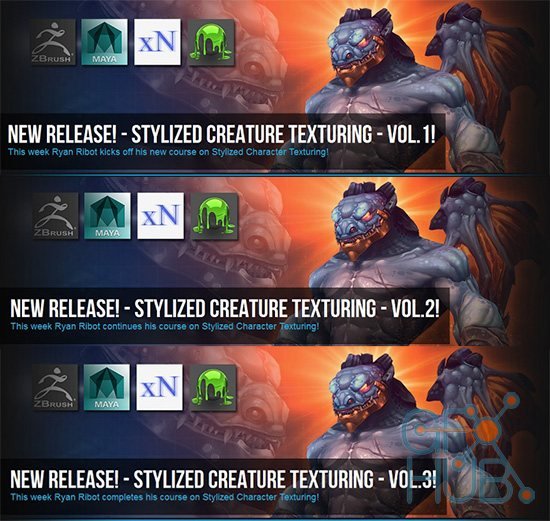 3DMotive – Stylized Creature Texturing Volume 1, 2, 3 (ENG/RUS)
In this course, we will be teaching the necessary skills to prepare and hand paint a 3D Creature for game production. Starting from the baking process, we will cover all the necessary skills that a texture artist will need to paint a character. After we get some of the technical parts out of the way the real fun can start: Painting. We will be covering techniques for painting in a very stylized color scheme, focusing on balancing values and colors to create a great looking creature. We will cover many materials from skin to metal, and showcase methods to make each material really sing. Our end result will be a final portfolio piece that shows off your painting prowess!
----------------------------------
В этом курсе мы изучим необходимые навыки, чтобы подготовить и разрисовать трехмерное существо для игрового производства. Начиная с процесса запекания мы рассмотрим все необходимые навыки, которые необходимы художнику для текстурирования персонажа. После того, как мы разберемся с технической частью начнется самое веселое: рисование. Мы изучим техники рисования в очень стилизированой цветовой схеме, ориентируясь на балансе ценности и цвета, чтобы создать хорошо выглядящее существо. Мы охватим множество материалов от кожи до металла, и продемонстрируем методы, как отобразить важнейшие свойства материала. Нашим финальным результатом будет законченная работа для портфолио, которая покажет ваше художественное мастерство.
Download links: