Videosmile – Super Figma 2022 (RUS)

2022-09-23

Video Tutorials
/
Other tuts

356

0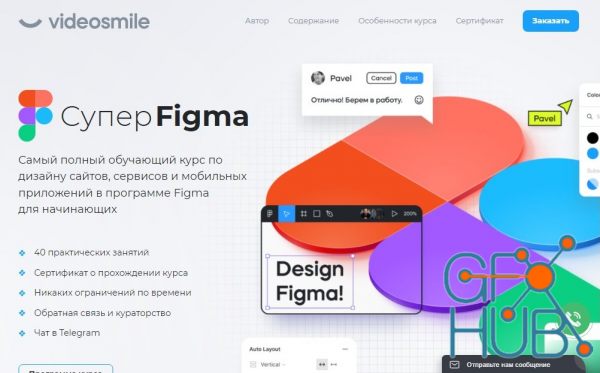 Videosmile – Super Figma 2022 (RUS)
Figma is rightfully considered the main tool among web and UX/UI designers all over the world.
Thanks to its elaborate tools and user-friendly interface, Figma allows you to quickly create interactive prototypes of future websites, services and applications.
In this course you will not only learn rich Figma tools, but also develop the design for several one-page web-sites and a clickable prototype of a mobile application. All of this you will be able to put in your portfolio.
The course is designed so that you will learn Figma in practice, creating websites, interfaces and applications. Under the author's guidance you will get acquainted with Figma features and create cool works for your portfolio.
Additionally, we've included chapters on graphic design basics and a final chapter on how to successfully start a career in web design.
After successfully completing the course, you will be able to take your first freelance jobs or get a junior job in a studio.
The course has 40 sessions (total duration of more than 22 hours).
-------------------
Figma по праву считается главным инструментом среди веб- и UX/UI-дизайнеров по всему миру.
Благодаря продуманному инструментарию и удобному интерфейсу, в Figma можно быстро создавать интерактивные прототипы будущих сайтов, сервисов и приложений.
В этом курсе вы не только освоите богатый инструментарий Figma, но и на практике разработаете дизайн для нескольких одностраничных сайтов, а также кликабельный прототип мобильного приложения. Всё это вы сможете положить к себе в портфолио.
Курс разработан таким образом, что вы изучите Figma на практике, создавая веб-сайты, интерфейсы и приложения. Под руководством автора вы познакомитесь с возможностями Figma и создадите крутые работы для своего портфолио.
Дополнительно в курс мы включили главы по основам графического дизайна и финальную главу о том, как успешно начать карьеру в веб-дизайне.
После успешного прохождения курса вы сможете брать свои первые заказы на фрилансе или устроиться джуниором (младшим специалистом) в студию.
В курсе 40 занятий (общая длительность более 22 часов).
Продолжительность: 24:58:26
Язык озвучки: Русский
Download links: