Udemy – CorelDRAW Essential Guide 2022 Update (Win)

2022-09-17

Video Tutorials
/
Illustrator/Graphics Design tuts

118

0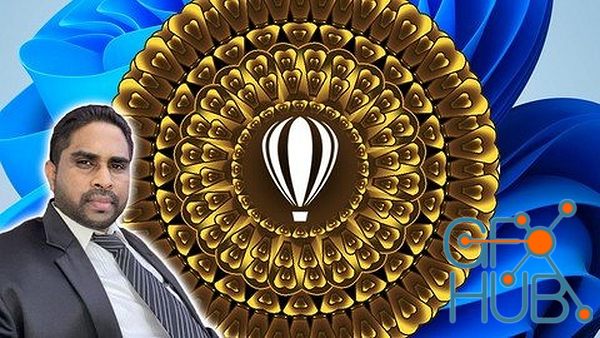 Download video course by Udemy – CorelDRAW Essential Guide 2022 Update (Win). CorelDRAW 7 – 2022 – Complete Tutorial for Beginners to Become Professional.
What you'll learn
Basic theories of graphic design
Identify and manage CorelDRAW interface
Document handling
Object Menu Commands
Edit Menu Commands
View menu commands
Working with pick tools flyout
Zoom tool & pan tool
How to use Curve tools
Fill tools & filling methods (properties)
Rectangle tools, Ellipse tools, Shapes tools
How to use tools in edit shape flyout
Cropping tools and eraser tool
Working with text tool & Table
Dimension tools, Connector tools, How to use effects tools
How to Use Effects and Bitmaps Commands
How to create Logo
How to drawing Illustrations
How to create Business Card Design
How to create Bookmark Design
How to create T-shirt Design
Perfect knowledge required to become a professional designer
Requirements
A computer with CorelDRAW software.
Description
CorelDraw is developed by COREL Corporation and this software helps to design and change vector graphics. That means you can create anything you like, such as logo, business card, t-shirt design etc. This software is very user-friendly and easy to use.
You can learn all these tools & projects in this tutorial
1. Introduction
Introduction to CorelDRAW & graphic design
CorelDRAW workspace tour
Interface CorelDRAW
• CorelDRAW options
• Handling windows
• Handling Toolbars & dockers
• Standard toolbar
• Property bar
• Dockers
• Status bar
• Choosing a workspace
2. Document handling (CorelDRAW basics)
New document, New from template
Open document, open recent documents, close document
Save & save as template
Importing, exporting & printing
3. Important menu commands
Edit Menu Commands:
• Undo, redo, cut, copy, paste
• Delete, duplicate, clone, select all, find and replace
Object Menu Commands:
• Align and distribute
• Changing order of object (to front of page, to back of page, to front of layer, to back of layer, forward once, back one…)
• Group, ungroup and ungroup all
• Hide, show and show all
• Lock object, unlock object, unlock all objects
• Combined command
• Shaping methods (weld, trim, intersect, simplify, front minus back, back minus front)
View menu commands:
• View modes (wireframe, normal, enhanced, pixel)
• Ruler, guidelines, gridlines, dynamic guidelines
• Snap to object, snap to guideline, snap to gridline
4. How to use toolbox & property bar commands
Working with pick tools flyout
• Pick tool (select, resize, stretch, skew, rotate, mirror and etc.)
• Freehand pick tool
• Free transform tool
Zoom tool & pan tool (zoom in, zoom out, fit to page/ to page width/ to page height/ to contents/ to selection)
Fill tools & filling methods (properties)
• Interactive fill tools
• Smart fill tools
• Mesh fill tools
• Color eyedropper tools
• Attribute eyedropper tools
Curve tools : Freehand tool, 2- point line tool, Bezier tool, pen tool, B-spline tool, Polyline tool, 3- point curve tool
Drawing tools & properties
• Artistic media tool
• Live sketch tool
• Smart drawing tool
Rectangle tools (rectangle, 3- point rectangle)
Ellipse tools (ellipse, 3- point ellipse) honest
Shapes tools ( polygon, star, spiral, common shapes, impact tool, graph paper)
How to use tools in edit shape flyout
• Shape tool (corner style, convert to curves, nodes and curve styles)
• Smooth Tool
• Smear tool
• Twirl tool
• Attract and repel tool
• Smudge tool
• Roughen tool
How to use crop tools and erase
• Crop tool
• Knife tool
• Virtual segments delete tool
• Eraser tool
Working with text tool & Table
• Artistic text
• Paragraph text
• Path text
• Table text
Dimension tools (parallel, horizontal or vertical, angular, segment, 2-leg callout)
Connector tools ( connector, anchor editing)
How to use effects tools
• Shadow
• Contour
• Blend
• Distort
• Envelope
• Extrude
• Block shadow
Transparency tool & properties
5. How to Use Effects and Bitmaps Commands
Effects menu commands
Edit & trace bitmap images
6. Practical Projects
Project 01: Lets's Illustrate a Simple Logo
Project 02: Let's Illustrate CorelDRAW Logo
Project 03: Lets's Illustrate LG Logo
Project 04: Let's Illustrate an Avocado Fruit
Project 05: Let's Create a Business Card Design
Project 06: Let's Create a Bookmark Design
Project 07: Let's Create a Book Cover Design
Project 08: Let's Create a T-shirt Design
Extra Bookmark Project : Let's Create a Bookmark Design (II)
Who this course is for:
Beginners who want to learn CorelDRAW from scratch
Those who expect to create practical and professional level Graphic Design using CorelDRAW
Those who aspire to become freelance designers using CorelDRAW
MP4 | Video: h264, 1280x720 | Audio: AAC, 44.1 KHz
Language: English | Size: 3.44 GB | Duration: 7h 31m
Download links: