Skillshare - Hand Drawn Half Drop Repeat Patterns Procreate & Photoshop Edition

2020-12-20

Video Tutorials

315

0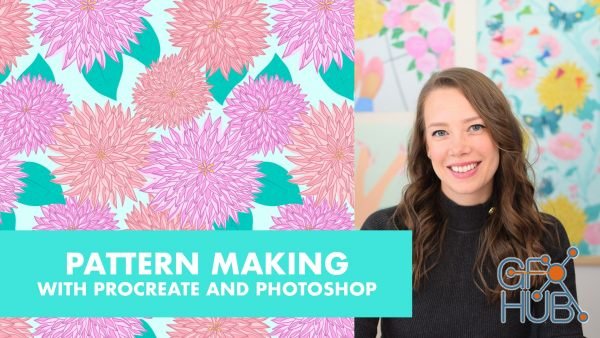 Skillshare - Hand Drawn Half Drop Repeat Patterns Procreate & Photoshop Edition
Welcome to the Procreate and Photoshop edition of my elaborate hand drawn half drop repeat pattern series! This is an intermediate level, super comprehensive class all about patterning making using Procreate and Photoshop. If you love Procreate and you want to take your pattern making to the next level, this class is for you
WHO IS THIS COURSE FOR?:
All illustrators and surface pattern designers with a basic/intermediate knowledge of Procreate and Photoshop as well as pattern making. I will not be going over the basic functions of these programs.
WHAT YOU'LL NEED:
Supplies you will need to create the class project:
2 pieces of paper of the exact same size. I use A3 (297 x 420mm)
General drawing supplies. Pencil and eraser.
iPad, Apple pencil and Procreate app.
Desktop/laptop with Adobe Photoshop. 2021 version if you would like to use the new Pattern View mode.
WHAT YOU'LL LEARN:
In this class I will be sharing my technique for creating elaborate hand drawn half drop repeating patterns using 2 pieces of paper, coloring them in Procreate and finishing them Photoshop and much more.
We will cover the following:
The pros of working with Photoshop.
The limitations of Procreate.
How to build an elaborate hand draw half drop pattern from start to finish.
How to design motifs in Procreate for secondary or coordinating patterns.
How to use Photoshop Pattern View mode.
The 2 reasons why you should not repeat your motifs in your pattern collections or portfolio.
How to simply make your patterns more complex and interesting.
How to create an implied repeat.
How to professionally present your patterns.
And many tips along the way to make better and more interesting patterns.
I am so excited to share my tips with you and to see what you all come up with in your class projects!
Download links: