Skillshare – Isometric Illustration in Procreate: Design Your Dream Room

2020-12-24

Video Tutorials

705

0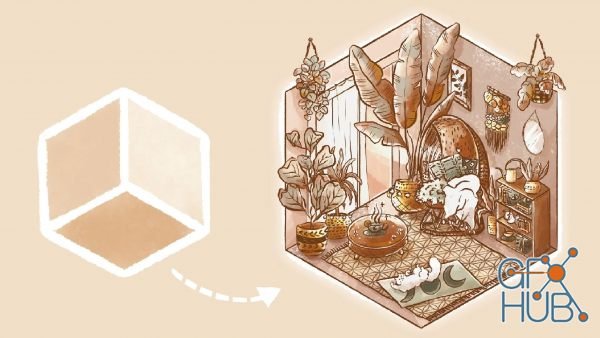 Skillshare – Isometric Illustration in Procreate: Design Your Dream Room
Ready for some isometric fun? In this class you'll be learning how to create an ISOMETRIC room illustration in Procreate 5.
An isometric illustration allows you to present a three-dimensional object on a flat two-dimensional surface. Isometric illustrations are one of the hottest design trends - they are definitely eye-catching and will look very impressive in your art portfolio. It is a perfect marriage of flat meeting depth.
In this class, I will show you my entire process and share all my hot Procreate tips on how to design your dream isometric space. I will provide you with FREE Procreate color palettes if you choose to follow me closely and create a similar aesthetic pastel illustration. You will also be equipped with a set of FREE Procreate brushes along with an extra "flower of life" pattern brush (more info below).
In this illustration tutorial I will be covering the basic principles of isometric design. The class is well suited for beginners, though a basic understanding of the Procreate app is desired and is definitely a plus. For more seasoned Procreate users, this class offers inspiration for creating a striking isometric illustration for their art portfolio. Completing this class will help you in a better understanding of perspective, as well as learning how to creatively translate space into an illustration.
I will be working in Procreate 5, however, please feel free to use any drawing software, such as Photoshop, Adobe Fresco etc. Although the interfaces may differ, the process that I will be showing you remains the same.
What we'll be covering:
Understanding isometric perspective
Using real-life references creatively
Tips on the tools, the canvas specs and Procreate brushes
Utilising an appealing pastel color palette
Fun sketching exercises to get you warmed up
My whole creation process from start to finish
Exporting your your drawing process in Procreate as video (Procreate speedpaint)
Download links: