Gumroad – Architectural Design for Film

2023-02-21

Video Tutorials
/
3D Tutorials

498

0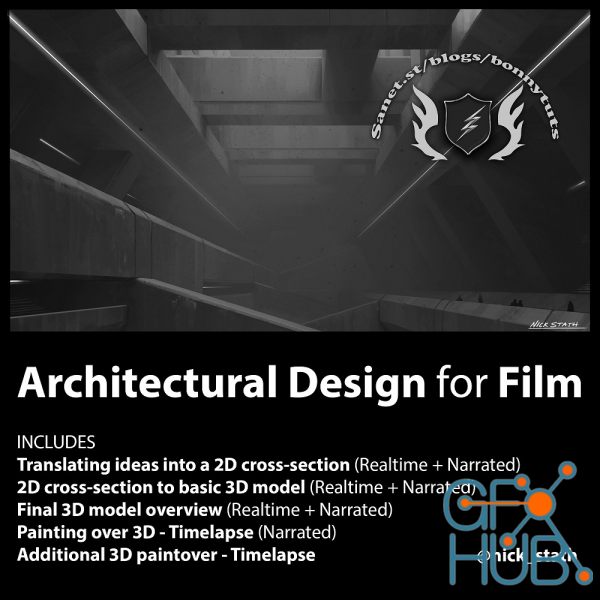 Gumroad – Architectural Design for Film by Nick Stath
In this tutorial, I will show you how I designed an Architectural Environment for a film using both 2D and 3D methods.
We will first design a 2D sectional drawing in response to a brief, then take it into a 3D program to build a base for our final Concept Sketches.
Topics covered
- Translating ideas into a 2D cross-section (Procreate)
- 2D Cross-section to basic 3D model (Blender)
- Final 3D model overview (Blender)
- Timelapse: Painting over 3D (Procreate)
- Closing thoughts
What do you get?
- Over 45 minutes of narrated video content covering my workflow for designing an Architectural environment for a film
- Additional 3D paint over timelapse
- Final Concept Sketches in JPG format
Who is this for?
- Creatives interested in designing Architectural environments and spaces
- Creatives and Designer's looking to expand their skill set in digital image making workflows
Tools Used
- iPad Pro + Procreate + Apple Pencil
- Blender
(This tutorial can also be followed in alternative 3D software such as; Rhino, Sketchup, 3ds Max etc. Alternative digital painting software can be used such as; Adobe Photoshop, Infinite Painter etc.)
What do I need before I start?
- Some experience with digital image making workflows
- Basic knowledge of digital painting software, such as Procreate, Photoshop etc.
- Basic experience using a drawing tablet or equivalent tool (Wacom tablet, iPad Pro, etc.)
- Basic knowledge of a 3D modelling package
Download links:


Archive
« March 2023 »
Mon
Tue
Wed
Thu
Fri
Sat
Sun
1
2
3
4
5
6
7
8
9
10
11
12
13
14
15
16
17
18
19
20
21
22
23
24
25
26
27
28
29
30
31