Udemy – Autocad – Learn How To Create A 2D Floor Plan

2023-02-13

Video Tutorials
/
3D Tutorials

194

0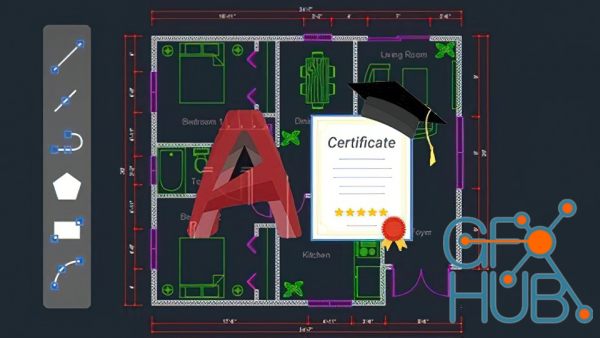 The Complete Guide to Master The Most Popular CAD software, AutoCAD.
What you'll learn
You will be capable of creating your own 2D Floor drawings in AutoCAD.
You will be able to use AutoCAD commands to produce any drawing.
You will have the skills and knowledge to take a project from start to finish.
You will have developed a strong understanding of the advanced skills in AutoCAD.
You will be able to take an entry level job roles as an AutoCAD Drafter or Architectural Designer.
Requirements
Students should have a basic knowledge of AutoCAD
Basic knowledge of windows operating system
Description
This course is aimed at those who may have learned AutoCAD in the past but forgotten how to use it.In this course we will go over how to create a floor plan using AutoCAD. We will go over drawing walls, creating window openings, creating door and window blocks, inserting blocks and adding text and dimensions and hatches and finally plotting. If you have been looking for a course to teach you how to draw a floor plan then this course is for you.As an Architect with over 10 years of industry experience, I have taught many people to use AutoCAD over the years. I still use CAD software on major engineering projects and it shocks me when I see the items still being taught in schools, books, and other online courses by teaching commands that nobody actually uses in the workplace.This course is designed to get you up & running with AutoCAD quickly by teaching you the things you need to know without long-winded explanations of techniques and commands that are no longer used.What if I am a total beginner and know nothing about AutoCAD?This course is meant for Beginners and above, if you have never used AutoCAD before then don't worry, this course will teach you all the basics.
Download links: