Skillshare – The definitive SKETCHUP course. From beginner to expert

2023-02-11

Video Tutorials
/
3D Tutorials

357

0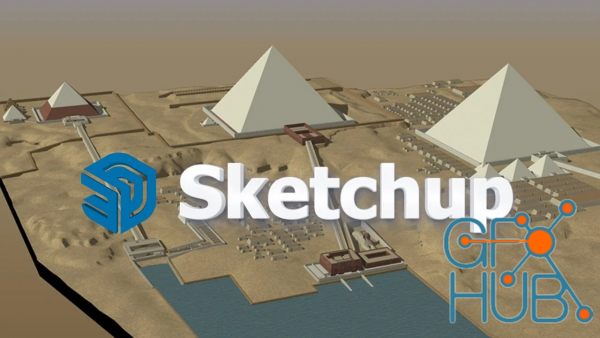 My name is Manuel Pallarés, I live in Bali, Indonesia, and I have been using SketchUp for over more than ten years. I am a freelance architect and I use to collaborate with diferent architectural firms to model and render their projects. Futhermore, I have been teaching SketchUp for several years in different creative schools and this course is the resault of that acumulated knowldge. I have experienced face to face the problems that you encounter in the program. They are always the same. So in this course I will try to resolve all of them step by step. This course is well thought out, carefully planned to teach you exactly what you need to know, without any fluff. In addition to using my own experience with SketchUp, many tutorials require hours of research and experimentation. The result is an easy to follow tutorial to get you modeling quickly and having fun during the process.
SketchUp is a powerful, flexible, affordable, easy to use 3D modeling software.
Provides thoughtful, easy to follow tutorials, reviews, resources, books, and videos to help you master SketchUp. My goal is to enable you to effortlessly take your ideas and bring them to life in 3D. SketchUp is the best tool for communicating and visualizing ideas, because its simplicity encourages creativity. The tool doesn't get in the way of the creative process.
If you've never used CAD or any other 3D modeling program, you are at an advantage because you will not have habits ingrained from other software. You'll be able to learn the fundamentals quickly, and you'll be encouraged by the quick progress you are making. Don't be intimidated if you've tried other complicated CAD software, only to become overwhelmed. SketchUp is one of the easiest 3D modeling programs to get started with, and I will help you learn the basics.
If you're experienced with CAD, or are looking for an alternative 3D modeling program from what you're currently using, you'll find SketchUp to be refreshing. The simple interface does not inhibit your creativity. You will no longer need to conform to complicated tools or procedures. Create whatever you can imagine. SketchUp is 100% accurate, works with nearly any unit of measurement, with precision up to 0.000001″. Enhance SketchUp with thousands of 3rd party extensions, and use LayOut to create construction documents from your SketchUp Pro models.
My Background
My first experience with Sketchup was during the last years of my architecture degree in Madrid. I was in my last year and I decided to use the program to represent my project in a three-dimensional way. I started self-taught, but even so, the program completely seduced me and I enjoyed making my 3D model . The truth is that I would have liked to know this powerful tool from the first year of my degree and not in the last. Accustomed to using Autocad, Sketchup was a breath of fresh air. I began to enjoy graphic representation. That is why for all those university students I think it is the perfect tool.
After the degree, I started working in different architecture studios in Lujbljana, Slovenia. Always in charge of the 3D representation of the different projects and their rendering. In this way I began to specialize in the use of Sketchup at a professional level. A program that seemed simple turned out to be more and more complex and powerful while maintaining that fresh air. That intuitive ability.
In this way, the next step consisted of working as a teacher in different creative schools. In this way I began to carry out a study program to learn the program from beginning to end. I gradually polished this program over the years. Learning from the difficulties my students encountered.
And here came the pandemic. At that moment, I decided to transform my face-to-face course into an online course. In a constant learning process thanks to keeping professional collaborations open, this course tries to synthesize all that knowledge accumulated over the last ten years in a professional and rigorous way, but also honoring the spirit of Sketchup, and proposing a way to learn fun and enjoyable.
Download links:


Archive
« March 2023 »
Mon
Tue
Wed
Thu
Fri
Sat
Sun
1
2
3
4
5
6
7
8
9
10
11
12
13
14
15
16
17
18
19
20
21
22
23
24
25
26
27
28
29
30
31