Skillshare – Create Interior Drawings Masterclass with Layout for Sketchup

2022-12-27

Video Tutorials
/
3D Tutorials

355

1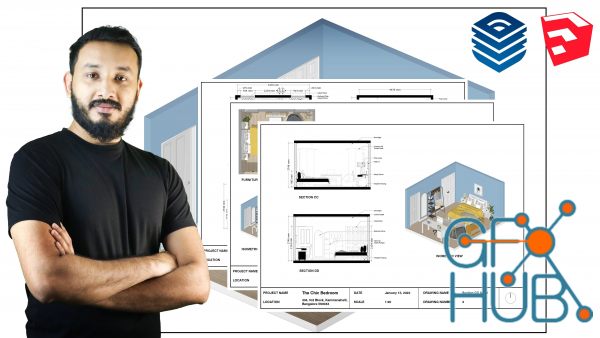 In this class, we will learn to create professional presentations & construction drawings with Layout for Sketchup.
THANK YOU FOR JOINING MY LAYOUT FOR SKETCHUP MASTERCLASS SERIES #1
WHAT YOU WILL LEARN?
In this course, you will learn how to create professional Interior Design Drawings & Presentations step-by-step using Layout for Sketchup.
Here are the contents of this class:
Optimizing your Sketchup 3D Model.
Setting up the right Styles for Sketchup
Setting up Templates in Layout
Create Plans and Elevations in Sketchup
Dynamically Linking Layout & Sketchup
Adding Views & Creating Clipping Masks in Layout
The Basics Tools in Layout
Shared & Unshared Layers in Layout
Creating Pages, Changing Styles, & Creating Texts in Layout
Dimensioning the Plans & Elevations like a pro
Adding Annotations & Patterns in Layout
Using Scrapbooks & Effects in Layout
Creating Sheets using Autotext, Grids & Shared Layers in Layout
Printing in Layout
By the end of this course, you will be able to create professional drawings like these.
Download links: