Udemy – SketchUp Pro For Garden Design

2023-01-19

Video Tutorials
/
3D Tutorials

334

0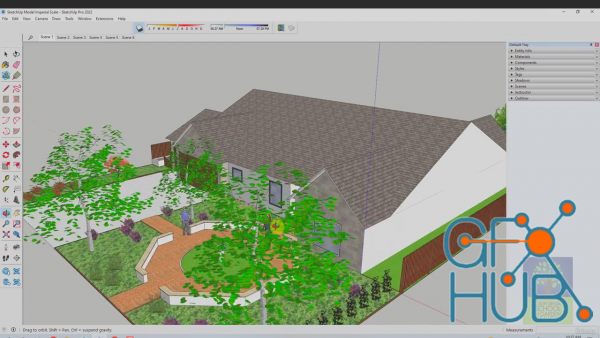 Using SketchUp to Develop and Present Your Landscape Design Solutions
What you'll learn
In this course you'll learn of three different ways to get your site plan into SketchUp - Using PDF's, DWG files and drawing directly into SketchUp
You'll learn how starting your design on paper, rather than in the program directly, can open your creativity to explore different design approaches
How Groups and Components help to keep your model organized and easier to naviagate
You'll master using tags and tag folders to explore and present alternative design solutions
Requirements
You should already be familiar with the software and have it downloaded and installed on your computer. This is not an introductory class in using SketchUp.
SketchUp 2018 or a later version, and Adobe Acrobat DC or another PDF editor capable of exporting a PDF as an image file should be pre-loaded on your computer for this course.
This course is specifically for using SketchUp Pro and is not intended for the free version of SketchUp
Description
This class is an extension of my Fundamentals of Garden Design Course,  also hosted on Udemy.  While in the Fundamentals course we learned how to draft and design conceptual plans using pencil, pen and ink, in this class we'll go a step further and develop our designs into 3-Dimensional presentations for study, review, and comment by team members and our clients.Please note: This is not an introduction to using the SketchUp software!  You will need to be familiar with using SketchUp so that you will be able to jump straight in as we create our designs.This course will be using SketchUp Pro 2022. CAD is a powerful tool, but CAD does not DESIGN the garden - we do!  We design a garden in our imaginations using a combination of skills and observations.  I still strongly suggest that when you start any new design you do it on paper.  The reason for this is to have your ideas flow quickly and organically.  Drawing rough sketches on paper allows your creativity to open up and you can try different patterns in a rapid manner.Once you have a strong idea of what you want the new landscape to look like then, AND ONLY THEN, should you open your computer and start drawing in CAD - whether that program be SketchUp or any number of other design software that is available.This course will take you through the processes of importing different file types and bringing in your own site survey .  Since this course is based on using SketchUp Pro, I will be using LayOut to scale a base plan for developing a design.Once a rough idea of the design solution is developed we'll refine design ideas into a 3-D model that will help you to better see and understand what you are looking to build.  It will also be the visual aid you may need to sell your idea to a client, spouse or friend.With Layout you can quickly scale your drawing, fill in a title block and export to a PDF or AutoCAD file for printing.Welcome to SketchUp 2022 in Garden Design!
Who this course is for
Advanced Beginners and Intermediate users of SketchUp who would like to start using SketchUp for their landscape design presentations.
Download links:


Archive
« September 2023 »
Mon
Tue
Wed
Thu
Fri
Sat
Sun
1
2
3
4
5
6
7
8
9
10
11
12
13
14
15
16
17
18
19
20
21
22
23
24
25
26
27
28
29
30