ArtStation – Hard Surface ZBrush Tutorial // Modeling A UH-60 Rotor (ENG-RUS)

2022-09-23

Video Tutorials
/
3D Tutorials

2 727

0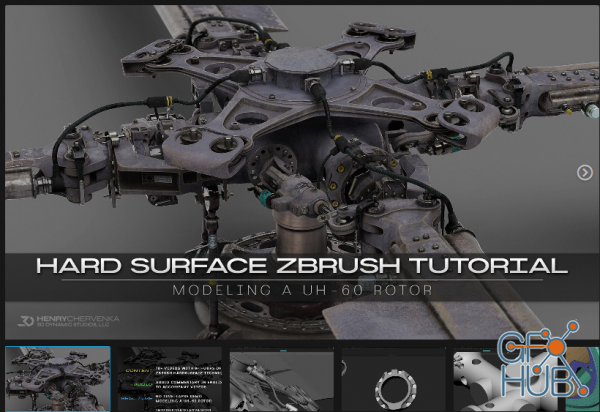 ArtStation – Hard Surface ZBrush Tutorial // Modeling A UH-60 Rotor (ENG-RUS)
Over the years, I've done a lot of hard surface modeling in Zbrush and found myself learning many different techniques and workflows. I thought it might be useful to someone out there if I recorded it all on video and talked through the process with you. If you're interested in learning more about that, this tutorial will include:
70+ Videos with 9+ hours of footage covering ZBrush Hard Surface Techniques such as:
Zmodeler
Zremesher (for hard surface)
Sculptris Pro
Booleans
Gizmo Deformers
Array Mesh
Clip and Slice Brushes
Retopology Techniques
and more . . .
No time-lapse demo, modeling a UH-60 Main Rotor for a practical example of the above techniques
Audio commentary in English to accompany the videos
Orthographic screenshots of individual parts from the UH-60 Rotor if you're interested in modeling this piece together with me
Note: This tutorial is intended for people with intermediate to advanced experience in ZBrush. I won't be covering beginner ZBrush processes such as user interface since there are plenty of resources out there for these. I will mainly be covering workflows and techniques.
------------------
Описание:
За годы работы я сделал много hard surface в Zbrush и освоил множество разных техник и способов работы. И я решил поделиться своим опытом с вами записав все, что я умею на видео с объяснением процесса работы. Если вам интересно освоить hard surface моделирование в Zbrush то этот курс включает в себя:
Более 70 видеоуроков продолжительностью более 9 часов по теме техник и инструментов твердотельного моделирования в Zbrush, таких как:
Zmodeler
Zremesher (для hard surface)
Sculptris Pro
Булевы операции
Деформеры Гизмо
Array Mesh
Clip и Slice кисти
Техники ретопологии
и многое другое...
Видео процесса моделирования Главного Ротора UH-60 для демонстрации вышеперечисленных техник
Видеоуроки с комментариями процесса работы
Присоединяйтесь если вам интересно создать эту модель вместе со мной!
Продолжительность: 09:00:00
Язык озвучки: Английский, Русский (отдельным файлом)
Download links: