Franzis CutOut 2018 Professional 6.1.0.1 Win

2018-02-26

Softwares
/
Graphics-Design apps

2 341

1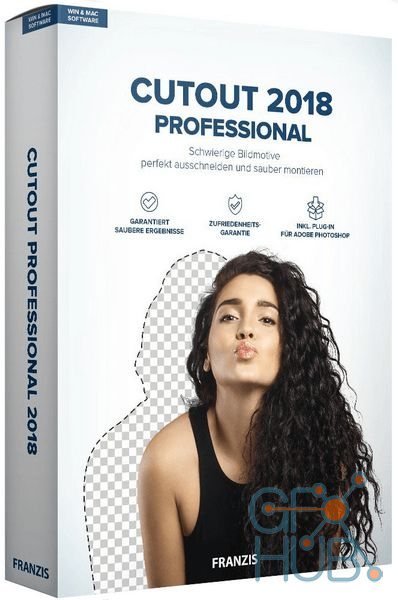 Download Franzis CutOut 2018 Professional 6.1.0.1 for Windows
CutOut - a graphic editor designed for masking and decomposing a photo or simply separating the object from the background. In the program you can view, sort, process images received from various digital devices, create photo albums, slide shows. And also improve the quality of images, add effects, labels, frames, eliminate unwanted objects, get rid of noise, skin defects, red-eye effect.
Features of the program:
• The program has advanced masquerading algorithms, which allows you to accurately isolate the required object from the general background and correctly fit it into another image.
• CutOut is equipped with an excellent intuitive interface. All tools have clear labels and have their own context menus that will allow you to easily move from one process to another.
• Can function as a stand-alone application, and also be used as a plug-in for the Adobe Photoshop graphics editor and perform batch masking of multiple images.
• Use the hromakey to work at the level of professionals: select the background color and cut your object on a monochrome background by clicking the mouse. This technique of creating films is used everywhere today in professional model agencies.
• Unlimited creativity. Thanks to image processing on layers, you can place the cut out part on one of many backgrounds and create completely new, breathtaking images! Show your world - using CUTOUT you can delete individual elements from images and combine them into a photo-realistic composition.
• Photo processing. Use CutOut to process images, using a large set of functions for cutting objects and a set of tools for adjusting the brightness, colors and saturation of both the foreground and background. Get the perfect result thanks to a variety of tools for transforming and cropping images. The program is all in one!
• Retouching problem images. CutOut offers intelligent tools for removing unwanted objects or retouching individual image areas. Thanks to such tools as an intelligent eraser and various brushes, you can always find a suitable tool for retouching images as a professional.
Download links: