Blender Market – Sketchn'Carve v3.1.7E_R

2020-12-18

Plug-ins
/
GFX Plugins

1 353

1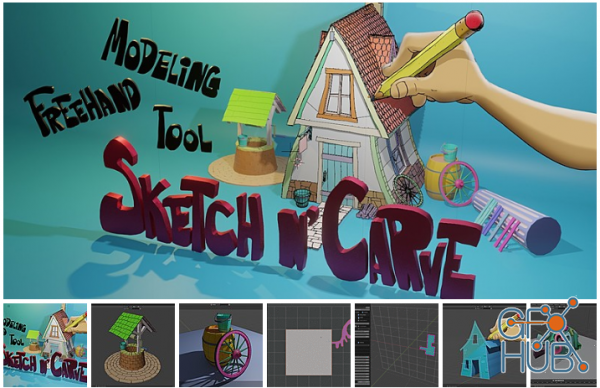 Blender Market – Sketchn'Carve v3.1.7E_R
Sketch N' Carve is a modeling tool designed to greatly simplify and speed up 3D modeling by taking advantage of Blender's Grease Pencil tools. It allows the user to convert any drawing into 3D geometry with a single click. It is an alternative way to modeling that gives the user tremendous artistic freedom and speed and allows them to model without ever having to touch a single vertex. It can be used to carve an existing object or create one from scratch. It can be used to create simple shapes or complex mesh objects using a set of tools separately or simultaneously, fully interactive and in real time.
Sketch N' Carve works with all versions of Blender from 2.83 to the latest 2.91.
Free updates to constantly increasing and improving tool set.
NEW VERSION: 3.1.7E_R (Blender 2.91 compatible)
FEATURES
Fast and easy geometry creation.
Quickly draw any shape you like and have your drawing converted to mesh instantly.
Artistic freedom with ease for a stylized or geometric creation.
Carve an already existing object or start with a blank slate and create from scratch.
Add or remove geometry simply by drawing.
Draw using any of the Grease Pencil tools, from pen tool to geometric tools.
Draw on the surface of objects and have your geometry created exactly where you want them.
Non destructive, semi-destructive or destructive work flow.
Interactive. Edit your shapes on the fly in their final form and real time.
Mute button to allow you to go back to your sketch and make alterations at any stage of the modeling and have it update instantly.
Simplify your shapes for a low poly geometry or keep the high resolution details.
Smooth sharp corners and/or additionally round the new geometry with Post Smooth modifier.
Auto Extrude, random extrusion length, twist, scale, subdivide and randomize geometry.
Array tool to create copies and distribute them as you wish. Ability to make each copy unique using it together with other modifiers, like "Noise".
Spin tool. Combine Spin with the Array tool to create complex shapes with speed and ease.
Curve Deform with Custom Curves.
Mirror Tool.
Create Lines with custom profiles. Taper option with adjustable thickness.
Scale, rotate and translate new geometry with precision.
Bevel the entire geometry or locally only the new geometry.
Slice and dice to create shattered objects for physics simulations.
Separate loose parts and Simulate with a single click.
Automatically created materials for all the newly generated geometry.
Combine multiple tools to create complicated looking objects with ease by a single click.
Download links: