True Grit Texture Supply – Chromagraph

2022-11-21

2D Graphics
/
Photoshop PSD

1 073

0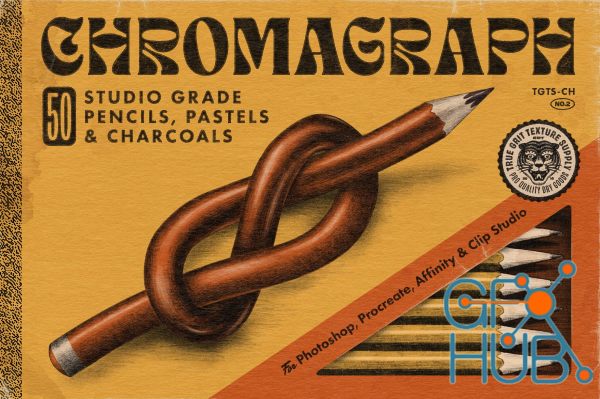 True Grit Texture Supply – Chromagraph. Pencils & Pastels for Multiple Apps.
Every great artwork starts with a sketch, so why settle for clunky digital pencils that look good from afar but far from good?
Chromagraph turns the page on the status quo, with 50 ultra-realistic pencils, pastels, and charcoals built to meet the demands of the modern digital workflow, from rough concepts to studio-quality finished art and everything in between.
What you'll dig:
• Realistic results without burning through reams of artist paper and supplies.
• Huge variety of brushes to accommodate a wide range of styles.
• Designed to emulate popular fine-art tools.
• Built from scratch to ensure optimal performance in each compatible app.
• Easily edit embedded brush textures for custom results.
• Archival paper texture templates add extra tactility to your work.
• Get to know your brushes quickly with a handy user guide included.
What you get:
• 50 x brushes for your preferred app including:
• Traditional graphite sketchers.
• Coloring pencils.
• Tilt shaders.
• Specialty pencils.
• Charcoals.
• Pastels.
• Oils.
• Erasers.
• 2 x classic paper texture canvases.
• Installation instructions and user guide.
Skill level:
Suited to novice and expert users alike. Easy to install with detailed instructions included.
Important System Requirements
PHOTOSHOP: CS6 or higher (Desktop + iPad).
PROCREATE: Version 5 or higher (iPad only).
AFFINITY PHOTO: V1.8 or higher (Desktop + iPad).
CLIP STUDIO: V1.11.8 (Desktop + iPad + Android)
Download links:


Archive
« September 2023 »
Mon
Tue
Wed
Thu
Fri
Sat
Sun
1
2
3
4
5
6
7
8
9
10
11
12
13
14
15
16
17
18
19
20
21
22
23
24
25
26
27
28
29
30