True Grit Texture Supply – KolorMarc Studio Markers for Photoshop

2022-11-18

2D Graphics
/
Photoshop PSD

2 040

0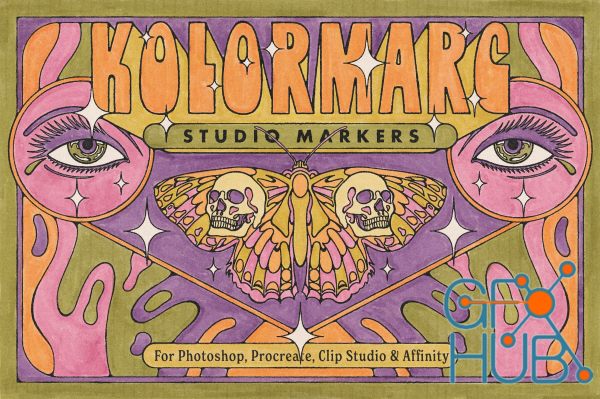 True Grit Texture Supply – KolorMarc Studio Markers for Photoshop
KolorMarc is your complete toolkit for capturing the warm humanist aesthetic of traditional studio-grade alcohol markers with all the power and editability of digital.
Specifically designed to recreate the silky glide and effortless blending of Copic markers, KolorMarc's finely tuned flow settings and built-in blending board texture allow you to render analog quality work right out of the box. Featuring a range of nibs, blend styles, and effects, KolorMarc brushes have endured hundreds of hours of real-world testing and relentless comparison with physical markers to create the ultimate studio marker set.
What you'll dig:
Analog-quality results with superior feel and response.
Fine-tuned pressure-sensitive design helps create subtle variations in every stroke.
Includes a variety of brush tips to accommodate a wide range of rendering techniques.
Built from scratch to ensure optimal performance in each compatible app.
Detailed tutorial video included.
Get to know your brushes quickly with a handy user guide included.
What you get:
30 x Brushes total including:
06 x Fine Tip Liners
03 x Taper Tip Liners
06 x Chisel Tips
06 x Brush Tips
01 x Big Fatty
08 x Fills & Effects
Installation instructions and user guide
Detailed tutorial video covering an extensive range of tips & techniques
Download links:


Archive
« December 2023 »
Mon
Tue
Wed
Thu
Fri
Sat
Sun
1
2
3
4
5
6
7
8
9
10
11
12
13
14
15
16
17
18
19
20
21
22
23
24
25
26
27
28
29
30
31