Udemy – Edit videos like Pro with Filmora, updated (2023) 0 to Hero

2023-01-10

Video Tutorials
/
Video Edit/Filmmaking tuts

269

0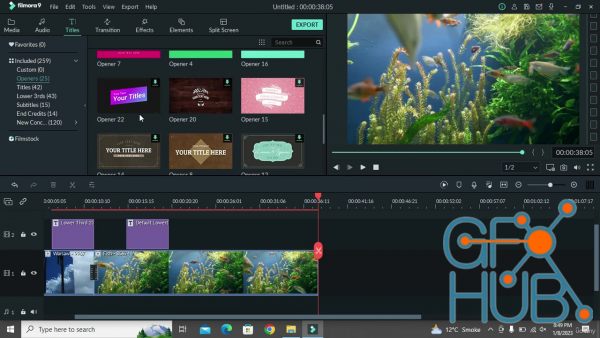 Learn to edit your videos professionally and easily. Full Beginner friendly easy to digest
What you'll learn
How to do video effects
How to record screen from web cam, record audio
Edit Green screens and add your own custom background professionally
Advance Techniques
Delete and cut the unwanted parts of the audio or video
How to add titles, subtitles, end credits, openers etc...
Add intros and outros for the video
Export the video in the best HD quality
How to add transitions and make your video look professional
Requirements
No any previous knowledge is required
Need stable and fast PC or Laptop
Good Internet Connection is a plus point
Eager to learn
Description
Have you ever wanted to edit your own videos but were too intimidated by all the editing programs out there? There are plenty of programs to choose from, but hardly any of them make editing easier for beginners. With Filmora, you can easily edit your clips with minimal effort. Wondershare Filmora 9 is a super powerful video editing tool & easy to use. You will able to record your computer screen with this software and will able to edit those recorded videos. Not only screen captured videos, you will able to edit any types of video with this powerful editing software. This course will take you from the very beginning to advance and you will become a Guru in Filmora 9. Because I have cleared all the Concepts of video editing with my best technique and analysis. I believe that Your Satisfaction is My Success. Therefore, stay connected for your best result. After you complete this course you will be able to create your own videos in a professional way to upload it online in a high quality to offer great videos to your audience and clients.You will also be able to start your income from applying the tips and tricks that you have learnedBy the end of this course you will be able to...Create new projects and import your clips.Cut and edit your clips.Add video and audio transitions in Filmora9, FilmoraX and Filmora 11.Find great video, images, music and sound effects to spice up your movies.Edit green screen videos.Add effects to your videos.Create animated Titles and Effects.Adjust your audio levels and effects.Export your videos with optimized settings.Create captivating videos that people actually want to see!So what are you waiting for ?
Who this course is for
For Beginners
For those who want to edit their daily videos
For new and old youtubers
For Video editing learners
Download links:


Archive
« March 2023 »
Mon
Tue
Wed
Thu
Fri
Sat
Sun
1
2
3
4
5
6
7
8
9
10
11
12
13
14
15
16
17
18
19
20
21
22
23
24
25
26
27
28
29
30
31