Udemy – Mastering Camtasia 2022 – Create Amazing Screencasts

2023-01-2

Video Tutorials
/
Video Edit/Filmmaking tuts

278

0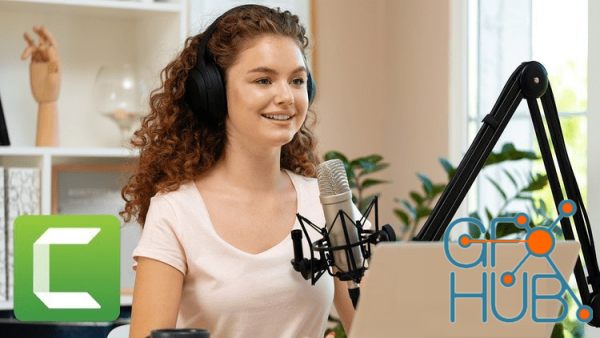 Learn how to record and edit amazing screen recordings and custom animated video intros all inside of TechSmith Camtasia
What you'll learn
Basic Recording and Editing in Camtasia
How to export and share videos recorded in Camtasia
Make videos interactive with quizzes and markers
How to do advanced animations inside of Camtasia for After Effects like animations
Microphones to use and proper ways to script videos
Requirements
Some video editing helpful but not necessary
Description
Camtasia is one of the best screen recorders on the market. You can easily record your screen showing some process or instruction and then export it to share on any video platform like YouTube, Brightcove, or Vimeo. You can edit and polish the videos inside Camtasia without years of experience. Camtasia is a powerful tool perfect for screencasts but it can do much more.
Most will stick with the basics of Camtasia and do screen recording and editing, and that's fine. In this course, I show you how to do the basics and even tips and tricks to speed up your editing, but we go beyond just the basics.
We will talk about scripting your videos, prepping your screen, and even the best microphones to record the audio. We also discuss using shapes and annotations within Camtasia to call out different areas of your screen. We then dive deep into animations, including how to animate objects on the screen and sequence the animations to other effects.
We go further with animations by talking about alpha masks, track matte, and behaviors to get even more After Effects-like animations within Camtasia. Camtasia is more powerful than most people realize, and we will walk you through everything you need to know to understand the basics and dive deep to make your videos stand out.
Who this course is for:
Anyone wishing to create screen cast videos
Anyone wanting to learn basic video animation
Download links:


Archive
« June 2023 »
Mon
Tue
Wed
Thu
Fri
Sat
Sun
1
2
3
4
5
6
7
8
9
10
11
12
13
14
15
16
17
18
19
20
21
22
23
24
25
26
27
28
29
30