Udemy – Adobe Premiere Pro CC Masterclass: Video Editing in Premiere (2022)

2022-11-15

Video Tutorials
/
Video Edit/Filmmaking tuts

258

0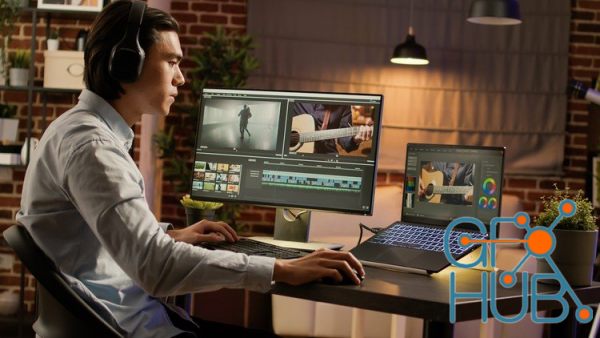 Learn Beginner-Advanced Adobe Premiere Pro Video Editing, Color Grading, Motion Graphics. Fast Track as a Video Editor
What you'll learn
Master Premiere Pro and be CONFIDENT Editing Your Own Videos
Efficiently use all the editing tools in Premiere Pro CC - The right tools with right techniques at the right place and time
By the end of the course, you'll have edited your promo video with the supplied footage (video clips, photos, graphics, music, etc.), or your own footage!
The complete and professional Color Correction Process - A step by step approach, Including how to use the all Lumetri Scopes and the Lumetri Color Panel.
The Entire Video Editing Process while you create you Demo Reel with professionally shut footage provided for you.
Edit an entire video from beginning to end, using professional and efficient techniques.
Export and save your videos for 4K & High Definition playback.
Start a project with the right settings for any type of video, from any camera.
Apply visual effects such as stabilizing shaky video, removing grain, and making video more cinematic with overlays.
Color correct your video to fix issues with white balance and exposure.
The concept behind Color Grading and how to apply Color Grading in a professional way to create different moods and feelings for your Videos
How to use the latest Graphics within Premiere Pro CC to create Titles, Lower thirds and more...
Requirements
Ultimately, you should have Adobe Premiere Pro CC 2017 up to 2021 installed to thoroughly follow along and practice while you are learning.
A minimum free disk space of 1GB to download and work with the necessary professional footage I have provided.
You can also learn the entire Video Editing Process and create your projects using prior versions of Premiere Pro CC.
We teach this course using the Adobe Premiere Pro CC (creative cloud) versions, so it would be best if you're using CC. But you can still learn using CS6, CS5, CS4, or even CS3!
Description
The Most Comprehensive Adobe Premiere Pro Complete Course with hours of easy to follow video tutorials with 5 stars review.New Sections added periodically to give you the complete Adobe Premiere Pro CC Course. The Ultimate Learning Experience with Hands On Practice Activities and Their Tutorials to expand your learning.Adobe Premiere Pro CC: The Complete Adobe Premiere Pro CC Course from Beginner to Advanced.Start your Video Editing Career with Premiere Pro CC and create professional productions for film, TV and the Web.From the Author of the Bestselling and Highest Rated After Effects and Tiktok Complete Course, comes a brand-new course for Premiere Pro.This course comes after countless requests from all my students who loved the way we teach, and how we explain things by going over intricate details so they can better grasp HOW and WHY things are done. We created this course for you to learn Video Editing and Premiere Pro CC from fundamentals to advanced techniques.This course is about learning the right methodology, the best techniques, important concepts and their purpose. So that you'll learn all there is to know on your way to becoming a Pro Video Editor.You will learn how to edit the Interview and create a montage that tells a story. Assemble with additional footage to create an even more dynamic, exciting story. Or come up with an awesome and original video using the same footage. It's open to your imagination and what you want to create.Everything is provided: a complete and comprehensive setup to start you up in Video Editing.Start editing your video professionally with Adobe Premiere Pro CC!If you are looking for a video editing application that will allow you to edit videos however you want them, Adobe Premiere Pro is the best answer. Premiere Pro is used by professionals across the world for every type of production from business & marketing videos, music videos to documentaries, feature films. This full course is the best way to jump right in and start editing.Make videos the way you imagine them!Practice editing while you learn. This course includes practice video files so you can follow along and actually learn by doing.What is this Adobe Premiere Pro course all about?In this complete guide to Adobe Premiere Pro video editing course, you'll not only learn all of the editing tools available in Premiere Pro, but also how to edit with the mindset of a professional editor.This course will cover everything you need to know to start video editing, including:Starting a projectEditing your videosAdding video and audio transitionsAdding professional and modern titles (even some with motion)Improving audio and finding great free music for your projectsCorrecting and grading the color of your video to give it a great styleAdding visual effects to your projectsEditing green screen (chroma key) footageExporting your video for high-quality playback on any deviceAdvanced editing skillsAdvanced color gradingAdvanced efficiency tipsSo much more!Learn from someone who is currently working in the industry, who knows the most current editing techniques.Enroll now, and we'll see you inside the course!SocmedtechKeywordsAdobe Premiere Pro CCPremiere Pro CcPremiere Pro Cc 2020Adobe Premiere Pro Cc 2020Adobe Premiere ProMultimedia SoftwareAdobe Creative CloudPremiere Pro Tutorial 2022Premiere Pro TutorialsPremiere Pro Tutorials AdobeBelajar Premiere ProPremiere Pro Motion GraphicsPremiere Pro VfxPremiere Pro AnimationPremiere Pro MasterclassLearn Premiere ProPremiere Pro Tips And TricksPremiere ProAdobe Premiere ProPremiere ProPremiere Pro motion GraphicsPremiere Pro vfxPremiere Pro AnimationAdobe Premiere Pro ccAdobe Premiere ProPremiere Pro CoursePremiere Pro TutorialPremiere Pro GuidePremiere Pro Course 2022Premiere Pro Tutorial 2022Premiere Pro BasicsPremiere Pro Tutorials for BeginnersPremiere Pro tutorialUdemy Premiere ProPremiere Pro CoursePremiere Pro TutorialBelajar Premiere ProVideo Editing Software TutorialVideo Editing Software Course
Who this course is for
You are a complete beginner and want to learn how to use Premiere Pro CC and Professional Video Editing
You are a video creator (or want to make videos), and are wanting to edit videos with THE BEST video editing application today.
You are a Premiere Pro Novice (worked a bit with Premiere) and you want to expand your skills and become more efficient in both skills.
You want to become a Video Editor and Create your own Unique Demo Reel using Professional Footage shut with various cameras and conditions
You have played around with Premiere Pro, but need some help becoming a more efficient editor.
You want to start your Video Editing Career, become Professional in Premiere Pro and Video Editing
You want to learn step by step the process of Post Production from Ingesting Media to Color Grading and Production
You have been Video Editing in other software and want to migrate to Premiere Pro
Download links: