Skillshare – Drawing & Digital Illustration Creating Cute Animal Characters For Beginners In Procreate

2022-11-26

Video Tutorials
/
Photoshop/Digital Panting tuts

255

0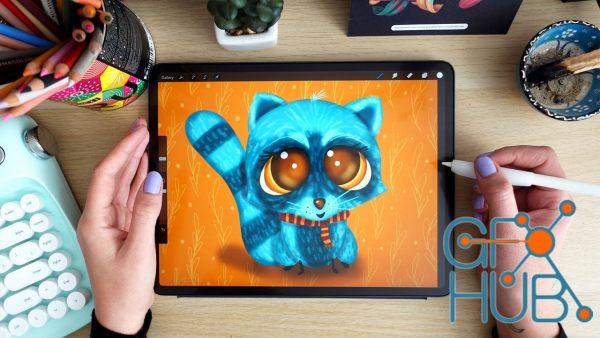 Drawing & Digital Illustration Creating Cute Animal Characters For Beginners In Procreate
About This Class
The project for this class is to draw and digitally illustrate a cute animal.
Description
We all know cute things when we see them, right? But what makes things cute? In this class you are going to learn how to draw and digitally illustrate animals and how to make them the cutest and most adorable little characters.
In this class we are going to choose an animal, draw it with simple stylisation and apply the cuteness factor to it. After we are done with the most adorable clean sketch of our character, I will teach you my illustration process with the "undershading" method, adding easy textures, creating the cutest giant eyes with light and reflection and we are going to also solve the mystery of dropshadows.
You will do all this with the help of The Artmother's Ultimate Brush Set (find in the resources) and a beginner friendly step-by-step video guidance.
You will NOT need any complex drawing skills, just an iPad with Procreate and its basic working knowledge. If you don't have an iPad with Procreate, don't worry! The class can be followed along with any software but you will need to adjust the steps for yourself!
By the end of the class you will be ready to amaze the world with you cute animal characters...so are you ready to jump right into it?
See you inside the class!
Project Guide
The project for this class is to draw and digitally illustrate a cute animal.
Make sure to at first download The Artmother's Ultimate Brush Set from the resources.
Follow these steps
- Choose a reference photo from a stock photo site or Google, where you have a front facing mammal.
- Analyse the basic geometric shapes you see in the reference photo and place them onto the canvas.
- Create a rough sketch of your animal.
- Apply the cuteness factor.
- Create a clean sketch.
- Paint your animal.
More courageous students are free to apply any illustration process and use any colors.
If you are a beginner, follow the video guidance to complete your illustration.
If you are a very beginner, find my sketch and color palette as well in the resources and use them for practice.
I am so much looking forward to see your artwork! Share it into the Project Gallery and include a few words about your experience.
If you share your artwork on social media, make sure to TAG me as @theartmother.
If you need any help, use the discussion board below or contact me through my social media.
I am so excited to see your artworks!
Happy Creating!
Download links: