Udemy – Soft body in Unreal Engine by Character Creator 3 + Blender

2022-09-13

Video Tutorials
/
Game Development Tutorials

471

0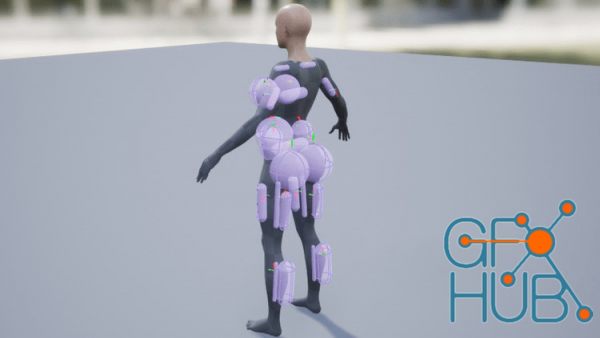 Creating a realistic soft body in Unreal Engine with CC3
What you'll learn
modyfing existing armature in Blender
exporting characters from Character Creator 3 to Blender
exporting characters from Character Creator 3 to Unreal Engine
creating weightmaps for soft area (like breast belly etc) in Blender
basics of using wigglebones addon in Blender
basics of sculpting in Blender
craeating shape keys in Blender (morphs)
exporting character from Blender to Unreal Engine
importing characters to Unreal Engine from Blender and from Character Creator 3
retargeting Blender character on U5 manequin
setting physic for whole scene system
creating physcial assets(physical skeleton) in Unreal Engine for soft body part basing on Blender Skeleton
creating simple key events like press "a" to get bigger/smaller belly when game is running in Unreal Engine
creating zoom + and - for camera in Unreal Engine
creating slowmotion effect in Unreal Engine
setting up materials for Blender character using Character Creator 3 beautifull materials in Unreal Engine
Requirements
!!! IMPORTANT !!! You need to have POSSIBLITY to Export characters from Character Creator 3 to External programs like Blender or/and Unreal engine. You need to have PIPLINE version of Character Creator 3. or/and Character Creato 3 + Iclone 7 PRO with 3DXchange v7.7 PIPLINE !!!
I used Unreal Engine 5.0.2 and Blender 2.90 (Clean version , no plugins)
You need to know at least basics of Character Creator 3 , Blender, Unreal Engine
I used Character Creator 3 (Ver. 3.32)
Description
Hi fellows Unreal Engine BLENDER Character Creator 3 lovers <3
Welcome in my Soft Body Course wich i lead you from CC3 to Blender then to UE 5 to get nicely and beauty rly soft bodys of your beautiful Character Creator 3 chars. I can ensure You its not diffucult you may think like that but its not , its just only 4.5 hours with english subtitles ofcourse :). This is my very first course but i did my best. If you will find any problems bugs or something like this please send my messege on my email account. Be patient in each video , if you dont understand everything just step back and try again. Be absolutely carefully when you naming bones, vertex groups in Blender, and later when you are going to naming physcial bodys in Unreal Engine, this is really super important, if You do mistakes in giving names for your bones nothing gonna work correct. I suggest doing many save doing backups, after each part you can even do a different files its your choice, but when you have more backups its easier to back when your files is damaged or broken. Remeber in Blender we are doing just Base for Physical Bodys in Unreal Engine, Unreal Engine physics its working a bit different than Blender. But its allways the same point , to make realistic movment of human body parts.
Enjoy!
Who this course is for
3D users , begginers, advance
Download links: