Udemy – Unreal Engine 5 Megacourse: Create Games In Ue5 & Blender

2022-08-27

Video Tutorials
/
Game Development Tutorials

871

0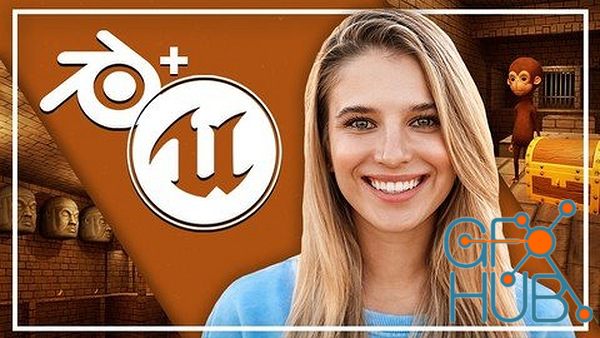 Learn how to develop games in Unreal Engine 5 and to create assets in Blender with this project-based course!
What you'll learn
The principles of game development
How to plan and prepare your pre-production stages
The organizational tools that will help you in the production process
How to gather references and create asset lists
The process of level prototyping in Unreal Engine 5
Everything behind blueprint scripting
The processes behind the player feedback design
How to create 3D assets for games
How to work with Blender
How to create tilesets and props
Everything behind character creation
Requirements
No previous game development knowledge required
A desire to learn!
A positive attitude!
Description
Learn how to create video games!Develop and design in UE5 and Blender like a pro!Have you ever wanted to create your own video games? Gaming is currently the single largest sector of the entertainment industry, representing billions of dollars. Maybe you want to create a functional game prototype, or perhaps, you want to fully produce the next indie hit. Whether you're new to working with Unreal Engine, or just want to know more about game development, this course has something for you.In this course we will cover everything you need to know in order to get started in creating your own game in Unreal Engine. We will teach you all the steps in game development, including pre-production, prototyping gameplay, and creating the finalized props and characters in Blender. You will begin from the first steps of downloading and setting up the softwares, followed by planning and pre-production, to learning about the interface and possibilities of Unreal Engine 5 and prototyping your first level. Finally, you will move to creating 3D assets for games in Blender, covering modelling, sculpting, texturing, and creating objects, environments, and characters to be integrated in your game.Our instructors have years of experience not only in game development and 3D design, but also in teaching, and the expertly-crafted syllabus is designed to help you learn all the theory and practical aspects. We've even included plenty of examples designed on-screen for you to study, as well as projects for you to complete. By the end of the course you will have your own game created. That's why this is the only Unreal Engine course you'll ever need to develop games like a pro!Start your design journey today!After taking this course, you will be able to:Work professionally with Unreal Engine 5 and BlenderCreate your own video game in UE5Do blueprint scriptingPrototype your own levelDesign assets and characters in Blender
Download links: