Skillshare – Robert Joyner – Drawing Tutorials Collection

2021-11-12

Video Tutorials
/
Drawing/Painting tuts

778

0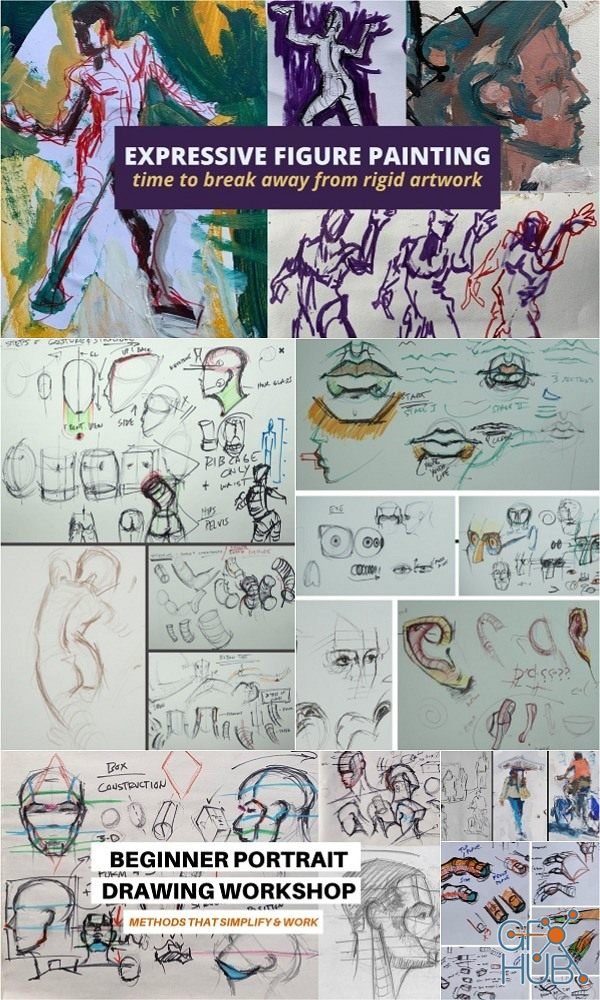 Skillshare – Robert Joyner – Drawing Tutorials Collection
Includes:
Abstract Figure Painting Techniques
In this class I will share various tips for simplifying the human figure into simple shapes and forms so that you can easily create some fresh, abstract style artwork.
The class is broken down into three key sections;
Section One - These lessons are dedicated to basic drawing skills that will allow you to reduce the human figure into very basic shapes and forms. This will allow you to get your ideas down quickly so that you can get to painting. It will also reveal some weakness in your drawing skills. These are easily fixed by spending some time to better understand where you are going wrong.
Section Two - These lessons are all about progressions. You will learn how to take a structured drawing and draw it more loosely. This is the gateway to painting for freely. Here you will train your brain and body to really go for it and not be timid with your actions.
Section Three - This is where i will create some finished art. In the demos I will share as many non-traditional and unconventional techniques as possible. Over time I will add more and more so stay tuned for updates
Sketching People In Action With Acrylics, Charcoal And Collage - Explore New Ideas!
In this class we will explore painting and sketching people and figures in action. It starts with using compressed charcoal and graphite in a loose style. It will end with exploring methods for painting and collaging to create some finished studies.
Who is this class for?
Anyone that wants to explore creative ways to paint figures and people in action.
Artists that want to explore alternative methods for painting with acrylics and mixed media.
Anyone that wants to try new ideas that mix acrylic and collaging.
How To Draw Hands
In this class you will discover easy methods for how to draw hands. This class is perfect for all levels as we will start from the very beginning and work our way through each stage adding more and more structure.
To help simplify the drawing process I will share my two main drawing tips: gesture & structure. These are the key drawing tools used for all hand parts.
I've also included how to draw the forearm since it attaches to the wrist and hand. It gives the hand more context and meaning.
Beginner Figure Drawing: Learn To Draw Stunning Poses
Welcome To Beginner Figure Drawing! The ultimate online course for complete beginners that aspire to draw the human figure.
My name is Robert Joyner, and I'm a full-time artist from beautiful Virginia. I've been painting and teaching for over 15 years and I'm thrilled to bring this in-depth figure drawing course to you via SkillShare.
This class has been carefully constructed and includes a step-by-step approach that will build confidence without getting overwhelmed. If you can draw a circle, square and rectangle then you are more than qualified to take this course.
Portrait Drawing Course; Learn Beginner Head Drawing Techniques
In this class you will expand on the beginner structures taught in Drawing The Human Head Part 1. This will include taking a closer look at four key portrait features;
Eyes
Nose
Mouth
Ears
Each feature will be broken down into basic, easy to understand and draw shapes. Plus you will discover how they lay on top of the beginner structures and how each one transitions and connects to the next feature.
Who is this course for?
This course is designed for intermediate and aspiring creatives that want to add more depth and realistic features to their human head drawings.
Drawing The Human Head - Beginner Course For Developing Proportions & General Accuracy
Learn the basics for mapping out key facial features and the main structure planes. This course is beginner friendly and loaded with tips on drawing the human head.
If you ever wanted to learn an easy approach to drawing the human head this course is for you! It's loaded with techniques and ideas that will teach you the basic head structure and proportions from multiple angles. Below is a breakdown of some of the techniques we will discuss;
Section One - Learn how to quickly lay-in the profile & front views. We will breakdown various methods for understanding the overall shape(s), gesture, proportion and locations of main facial features.
Section Two - Learn how the head connects to the neck from the front and back. Then we will learn how the head shape changes when it's in various angles and perspectives.
Section Three - We will see how some of the Master's applied these ideas in their drawings. A great way to reinforce the techniques and see them in action.
Section Four - It's your turn to draw the basic shapes of the head in various positions using the practice reel. These are timed poses where you draw from the images furnished in the video.
Section Five - You will see an in-depth look at Robert's practice reel as he draws the exact same heads you did in the practice reel.
Section Six Through Ten - You will learn the intermediate construction ideas for mapping out the face and features. We will discuss several techniques for understanding front and side planes, how facial features are impacted when in various perspectives and much more...
Section Eleven - We will take another look at how the Master's applied the intermediate ideas and techniques to their drawings. You will also get a chance to do them on your own using the second practice reel. These are five minute poses.
Section Twelve - You will see how Robert completed the practice reel as he talks through the techniques he used in each pose.
Download links: