FXPHD – FLM213 Flame for Nuke artists

2017-07-15

Video Tutorials

1 408

0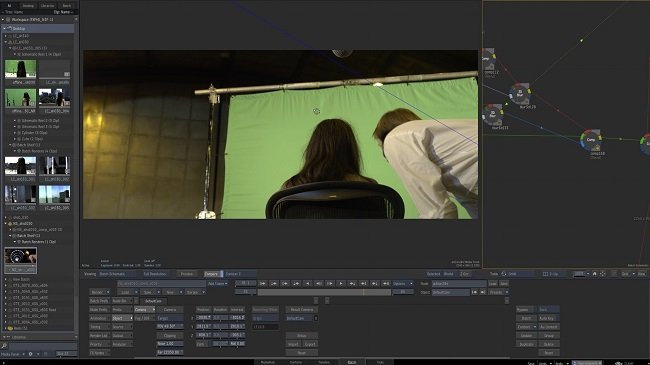 Title:
FLM213 Flame for Nuke artists
Producer:
FXPHD
Video format:
MP4, 1920x1078
Duration:
8h 07m
Project Files:
Included
Language:
English
Home Page:
_http://www.fxphd.com/details/549/
Description:
This 12-part course, taught by Sam Edwards, is designed to get Nuke compositors up to speed on Flame. Many of the lessons will cover shots created in previous fxphd Nuke courses so that students can refer back to the previous course to compare. The course contrasts Nuke vs Flame workflows and discusses the underlying principals of compositing and how Flame handles them. You'll be shown tools equivalent tools to those in Nuke, but special attention is paid to the unique tools in Flame.
The class covers three shots. The first is a simple matte painting shot that covers 2D tracking, roto and keying. The second is a much more advanced matte painting shot that covers the creation of the entire 3D environment. The shot tasks include harvesting a 3D tracked camera from a Nuke file, building geometry, applying textures, and creating a matte painting background from a panoramic photo. Lighting and render passes are also discussed.
The third shot uses CG renders, staring with a look at bringing multichannel EXR's into Flame. The includes a projection of a spherical map onto 3D geometry creating animated textures for the CG. Each shot shows a slightly different technique for creating the best mattes and suppression from the green screen footage.
Edwards started using flame in 1992 when he took delivery of the second Discreet Logic system in New York City. There he worked on TV commercials, music videos, and feature films for eight years. In 2000, Edwards moved to the West Coast where he took a job at Digital Domain, where he was assigned to the Nuke development team as a test compositor and helped write the in house documentation. He has composited in Nuke and Flame on many large VFX films at ILM and other top studios. Today Sam is a VFX Supervisor and occasional compositor on television programs, feature films, and teaches at fxphd.
To follow along with the course, members can install a 30-day trial version of Flame (for OSX), available for free from the Autodesk web site.
course syllabus
CLASS 1
Basic Flame usage for Nuke users. General introduction to flame layout, showing where the controls are. Explain the difference between batch and BFX as well as cover I/O and a bit of color science.
CLASS 2
The course starts with basic matte painting shot of the two girls in the store from NUK309. The class covers color management node presets, a first look inside Action, 2D tracking, contexts vs the viewer node, Defocus, keyframing, Regrain, viewer controls, and the compare buffer.
CLASS 3
The matte painting shot is completed. The class covers more advanced controls of the master keyer, separating the matte from the suppression, and combining different versions of suppression. A core matte is also created with the 3D keyer, and ends by making a light wrap onto our foreground and track marker removal.
CLASS 4
This class includes a review of Iterations and then begins an advanced 3D matte painting shot from NUK309. Class topics include harvesting Nuke assets, how to import camera and locators into flame/action, and setting up a cylinder for background inside action.
CLASS 5
Continuing the advanced 3D matte painting shot. Tasks include laying out railings and ground as well as introducing texturing. Action outputs, and comping with action output passes are also covered.
CLASS 6
Continuing the advanced 3D matte painting shot. This class picks up on lighting and shading, shadows and shininess, and ambient occlusion within Action. Also covers 3D blur, defocus, and a look at using BFX as pre-render.
CLASS 7
Continuing the advanced 3D matte painting shot. The tracked camera is leveraged to create roto in Action, plus a look at 2D tracking of roto for a moving camera shot.
CLASS 8
Continuing the advanced 3D matte painting shot. This class covers Action G-Mask and creating a reflection of the backdrop. We see how 10 bit rendering clamps and how to set your render node to 16 bit. Also, the 3D Keyer is used for a core matte and the Paint node for marker removal.
CLASS 9
Completing the advanced 3D matte painting shot. How to fix up a comp by interactively comparing it to the previous version. How to combine various versions of our key. A look how the keyers work in different color spaces, tightening up the roto, creating a light wrap ,and adding a rack focus.
CLASS 10
Beginning the CG Compositing shot. Color management for plates. Adding CG geometry and projecting a spherical panorama onto it in Action, using a Map Convert to get the textures needed for projection, and a look at precision color matching.
CLASS 11
CG Compositing shot. A look at shot organization and the batch tree using Compass, adding points, and Mux nodes with hidden inputs. Topics also include bringing in multi-channel EXR files, how the flame Comp node handles multiplication, exploring 3D Blur using depth, and linking nodes.
CLASS 12
CG Compositing shot. A last look at green screen compositing for the shot. Topics also include a look at additional keyers, using the mono node for creating our mattes, and a look at the Pixel Spread node.
Download links: