Udemy – Revit Architecture: Utopia Project Part 2

2023-02-15

Video Tutorials
/
3D Tutorials

324

0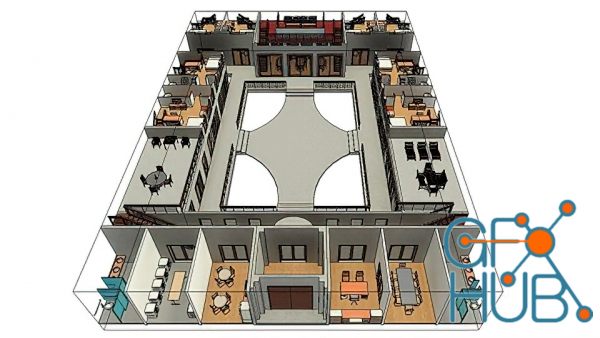 This course is to build Floors with texture, setup Interior and Exterior Rails, adding Components, and build Ceiling.
What you'll learn
Setup Level 1 and Level 2 Floors, Material for floors, Interior and Exterior Rails, import Components, Ceiling for Level 1 and level 2.
Project timeline: 3 hours 19 minutes.
Hi, my name is Sylvia Ouyang, I am an Autodesk Certified Instructor (ACI) with 5 years of teaching experience in Revit Architecture.
We will continue from Part 1 of Utopia project, and complete all the interior setting.
Requirements
This course is designed for proficient user of Revit Architecture who have completed the basic Revit Architecture course.
Description
In this introduction, I will move on from project Part 1, which is continuing to create a shared living housing plan using the Revit Architecture program.In this course, students will learn how to create Floors for each level and set up different textures, such as ceramic Tiles, wood, and Carpet, and exterior Floor, such as Concrete Floor, and build exterior steps.Then, I will demonstrate how to set up Rail on Stairs and Fences for the Interior and Exterior with texture to match the overall color scheme.Next is my favorite part, adding Components to the buildings, it will make the building more realistic to look at; most of the Components are from Revit Library, and a few of them will be from our preset library, these varieties cover Plumbing, Electric Fixtures, Furniture, Kitchen Equipment, etc.Then it will come to the Ceiling for each level, to make the workflow smooth, I will use a 2" x 2" ACT (Acoustical) System Ceiling first as a reference, it will be handy when we apply the light fixture, and give an overview of the area after the lighting fixtures apply, then the ACT system can be changed to other available choices.During the progress, students will learn how to use Section Box to view through the building, review details, and learn how to modify View Range to display underneath elements and smooth out workflow, and there is more to be discovered, so, let's begin this fun learning process.
Download links: