Udemy – Sketchup – Learn How To Create 3D Modeling

2023-02-13

Video Tutorials
/
3D Tutorials

308

0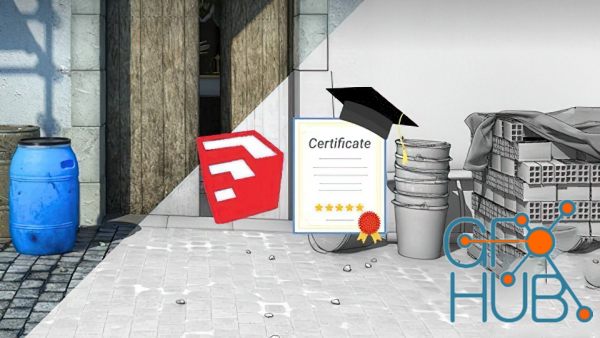 The Complete Guide to Master the Most Popular Tool, Sketchup.
What you'll learn
You will be capable of creating 2D floor plans in Sketchup.
You will be able to create 3D modeling using Sketchup.
You will have the skills to import doors & windows, and add furniture.
You will be able to create a roof.
You will have developed a strong understanding of the skills in Sketchup.
Requirements
A version of SketchUp
Willingness to learn
Description
Welcome to the course!the tutorial series is intended to be easy. Being the instructor, I have done my best to visually show you how to complete your first mini project step by step. After completing this course, you will know the software well enough to show off a new talent at work or design something you have always been trying to visualize.If you are a person who has recently felt that being able to draw 3D architecture would be a huge asset to your bag of skills, then this course is for you. And don't worry! This course is truly simple.This course shows how to use Sketchup's many tools through a central project of modeling a home. This course is designed for the absolute beginner, meaning no prior experience with SketchUp or 3D modeling is required.This course will guide you through two exciting elements of design: the SketchUp 3D modeling program and the interior design.If you're interested in interior design, even if it's just to improve the way your home flows and feels, this fun course will show you how to apply basic design techniques that will make your home look like it was professionally designed.You will start by learning how to set up the template and the basic drawing tools, such as the line, rectangle, circle. You will then jump into learning how to create a floor plan and extrude walls and create openings and a roof. then you will learn how to organize the model, and import and edit textures.This video tutorial also covers how to add furniture and doors and windows, and create the exterior of the home. Finally, you will learn how to create scenes and section cuts and export our model to an image and an animationOnce you have completed this computer based training course, you will be fully capable of using the tools available in SketchUp to create your own 3D models.So thank you for considering to learn Sketchup with this simple half an hour course. Sketchup is a very valuable skill to have so why not begin learning Sketchup today?
Download links: