Udemy – Revit Architectural: Work with Live Villa Project

2023-01-8

Video Tutorials
/
3D Tutorials

420

0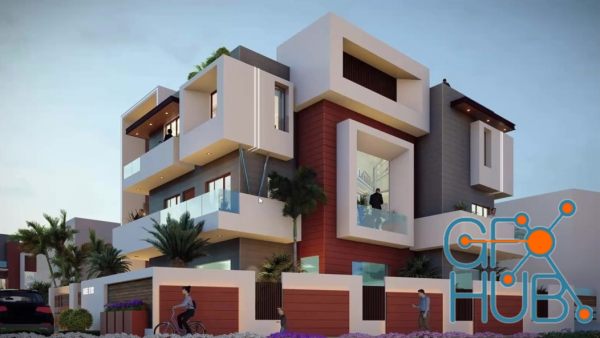 Essential Guide To Learn Complete Revit Architecture From Start To End by simple techniques
What you'll learn
Introduction To Revit Architecture
Detailed Discussion On Revit User Interface
Using Architectural Tools in Revit
Different Component Creation In Revit
Modeling Different Wall In Revit
Modeling Different Shapes Of Roofs And Ceilings
Modify & Opening Options In Revit
Modeling Different Staircase And Railing
Discussion On Live Project To Understand About BIM
Discussion On Revit Project Workflow
Discussion On Room And Area Options In Revit
Preparation Of Working Drawings In Revit
Preparation Of Schedule In Revit
Starting Residential Villa Project In Revit
Importing Autocad Architecture Plan Into Revit model
Starting Modeling Of Project - Cad To BIM
Interior Design Of Bedroom In Villa project
Complete Modeling Of Villa Project
Rendering Of Project Using Revit Rendering techniques
Creation Of Walk Throughs And Animations in Revit for Client Presentation
Requirements
No prior experience is needed. You will learn everything you need to know.
A computer with either Windows or Mac to install the Revit.
A strong work ethic, willingness to learn, and plenty of excitement about the awesmeo new Revit Architecture design and modeling
Nothing else! It's just you, your computer and your hunger to get started today.
Description
Major highlights of the courseNavigate Autodesk Revit Design Interface.Discussion On Autodesk Revit Design Commands. Discussion On Building Envelope (Cutout) Design.Discussion On Interior Design.Understand Concepts In Revit 3D Modeling.Understand the Preparation Of 3D Models and Designs In Revit.Discussion On Revit Rendering.Creation Of Walk Through & Animation.We assure you will be able to get 50% tool-based learning & 50%  Real-time Experience-based learning.A few Highlights of this course:Create your own 3d projects from scratch to end within a few hoursBe comfortable finding your way around the Revit User interfaceProvide the foundation for starting a career in BIM Designing, Modeling, and 3D visualization.Create your own components, models, and materials in RevitCreate components, Models of Villa including bedroom, hall, kitchen, toilets, and AEC industry modelWhat I this course all about?Autodesk Revit is a building information modeling (BIM) software tool for architects, landscape architects, structural engineers, mechanical, electrical, and plumbing engineers, designers, and contractors. In this Revit Architecture course, you will learn how to use Revit Architecture to create 3D models and produce working drawings, creating virtual walkthroughs and animations of buildings for your architectural presentation. Starting out with the basic concepts of BIM working within the 3D environment of Revit, we will start with setting out the building constraints, before working through the different modeling, annotation, and documentation tools available within Revit.This course is designed and delivered by industry experts. You can kickstart your Revit Journey, wherein we take you Step by Step with Real-Life Projects and get you up & running to design your favorite design, model, and graphics efficiently, quickly, and in the right way.Comprehensive coverage of the essential tools to design a space, components, Residential villa with bedroom, hall kitchen, toilet models, elevations, walkthroughs & animations. You will learn not only how every tool works but also how to apply it in the right way in your Revit workflow. Exercise files like Revit 3D Models for every lecture & section so you can follow along step by step included in this course.Real-life work examples were included in this course so, you will be able to directly work also in any company/industry. To check the understanding level quizzes were provided at the end of every section. No matter whether you are a Beginner, Intermediate, or in an Advance level candidate this course teaches you everything and clears your doubts.Project-oriented courseThe course lessons are mostly project-oriented and most of the tools and commands are taught with their real-world applications. Each module ends with a practical question that is related to the course and students are encouraged to answer the questions before moving further.Quizzes and Drawings for practiceTo check the understanding level quizzes were provided at the end of every section. And also drawings were provided for practice purposes.Course InstructorMs. Priya narwalArchitect in HaryanaExpert in CAD, REVIT, V-Ray, and 3DS MAX | 2D renders in photoshop | 3D realistic renders in 3ds max and V-ray | Realistic walkthroughs | Project Management and handling of clients.Instructor support for questionsWe understand that students will have questions related to the course and it's necessary also for a healthy learning process hence we encourage students to ask their questions related to the course in the Q&A section of the course. We answer each and every question as soon as possible and so far we have answered every single course-related question from students in the Udemy Q&A section.If you are still thinking about whether you should enroll or not then we encourage you to watch some of the preview videos and test the waters before you actually enroll in the course.
Who this course is for
People who want to start career in Building Information Modeling (BIM)
Civil Engineers
Architects
Designers
Space Planner
Interior designers
Furniture designers
Modelers
Beginner to Advanced Revit Users
Construction Professionals
Anyone with an interest in 3D design , modeling in Revit
Download links: