Udemy – Broken Tiles – Substance 3D Designer

2023-01-6

Video Tutorials
/
3D Tutorials

390

0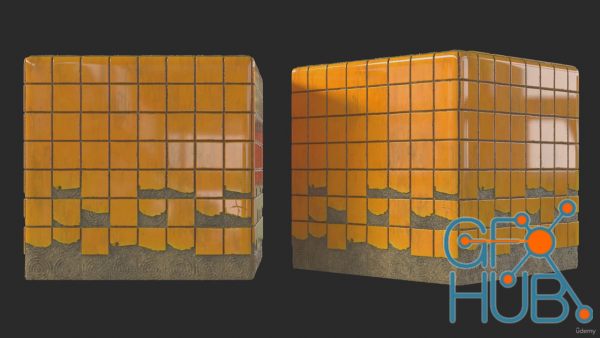 Learn how to create this type of material in this fully narrated, step-by-step tutorial
What you'll learn
Making PBR materials with Substance 3D Designer
Making complex shapes inside Substance 3D Designer
Working with the PBR Channels
Rendering the Material
Requirements
I expect you to have some basic knowledge about texturing.
You should have Substance 3D Designer version 11.3.0 and above installed on your computer.
Description
Learn how to create this type of material in this fully narrated, step-by-step tutorialSubstance 3D Designer is a Material and 3D Model authoring software. It generates textures from procedural patterns or by manipulating bitmaps inside a node graph as well as generates 3D models.In short, Substance 3D Designer should be seen as the most technical, advanced texturing application available. It allows you to author content for almost any use case or scenario. It means you are not limited to a single type of output (such as a unique material/set of textures for a UV-mapped mesh) but can create content for a much more extended set of uses. For example, most of the procedural, smart content in Painter and Sampler was authored and exported from Designer. Things like Brush Alphas, Generators, Filters, and Base Materials can all be authored in Designer.INSTRUCTOR:My name is Hamidreza Afshari and with years of experience in game and VFX, I'll be your instructor through this course.Contents:Over 2.5 hours of narrated, step-by-step video tutorial30FPS1920x1080 ResolutionMaterial GraphSoftware Used:Substance Designer version 12.2.1Prerequisite:Basic knowledge of software usedWith years of experience in Substance and Texturing, I'm here to make your day and show you how to use "substance" in actual production.I provide students with affordable and substantial tutorials that are easy to understand and produce results. Industry experience, effective teaching, and student interaction are the key ingredients for providing a high-quality learning system.
Who this course is for
This course is designed for those interested to learn Substance 3D Designer.
Download links:


Archive
« June 2023 »
Mon
Tue
Wed
Thu
Fri
Sat
Sun
1
2
3
4
5
6
7
8
9
10
11
12
13
14
15
16
17
18
19
20
21
22
23
24
25
26
27
28
29
30