Udemy – Revit Architecture Masterclass

2023-01-2

Video Tutorials
/
3D Tutorials

584

0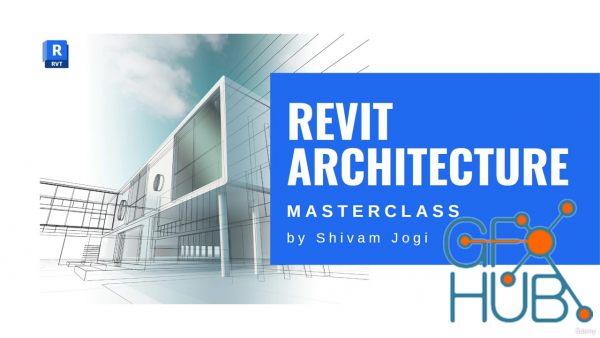 Master Revit Architecture with example centric tutorials & get free access to Revit component library with this course.
What you'll learn
You will learn Revit Architecture from basics to professional level.
Complete process of Modelling in Revit, with each tools explained with Example.
All example files and extra resource files included in this course to understand and practice.
Moreover you will learn to Model and design buildings, Visualization and walkthrough rendering, Modelling skyscrapers, Scheduling, and Sheet plotting on Revit.
In nutshell, you will be learning all the fundamentals of Revit to master Architectural modelling and designing concepts.
Free access to 10,000+ Revit component libraries.
Requirements
Windows or MacOS to download and run Revit software.
Basic Architectural knowledge can be helpful but no a prerequisite. The course is best suited for beginners as well as intermediate users to advance their skills.
Willingness to learn and practice Revit software.
Subscription to Revit can be helpful, but you can also gain student access or trail version of Revit. Reach out to me if you face any issues gaining the access to Revit Software on your device.
Description
Autodesk Revit Architecture -  Master Revit from basics with examples.The Revit Architecture Masterclass course is specifically designed with examples to achieve advance skillset with Architectural modelling, visualization, and drafting on Revit. The course starts with basic fundamentals and concepts as practiced in Architecture industry.  The course covers the Revit concepts in depth with Modelling, Visualization, Architectural Representation, Industry Standards, Revit component families, and Drafting on Revit. The instructor will guide you from scratch beginning with Revit installation. And, take your though in-depth with components like the; walls, windows, doors, floors, stairs, ceilings, curtain walls, and roofs. You will be able to model and design complicated elements easily after completing the course. The course contains dedicated example of modelling skyscraper buildings with curtain walls, designing house on slopping landscape, and designing walkthrough visualization on Revit.You will be able to manage complicated models, work in collaborations, design and manage number of options on same model, work with different complicated work-sets easily, understand scheduling and estimation with Revit Model, learn to organize and categories Revit Browser and advance example attached at the end of the course. Finally, the instructor continually update the course to keep up with latest software and industry updates and new releases with new lectures in course section. FREE access to paid Revit 3D model component library with over 10,000+ files. Please checkout last lecture of the course for more information. Special thanks to THE CIVIL ARCH for making it possible for student of Revit Architecture. Moreover you will gain Completion certificate through Udemy for completing the course.Waiting to see you in class, enroll now!
Who this course is for
Architects and Engineers
Interior Designers, Draftsman and best suited to students of construction industry.
BIM Designers
This course is designed from intermediate to advanced level.
In depth learning through tool to advance your skills, hence anyone wishing to develop their knowledge on Revit can benefit from this course.
Download links: