Udemy – Rhino7 & V-Ray (English)

2022-12-13

Video Tutorials
/
3D Tutorials

762

2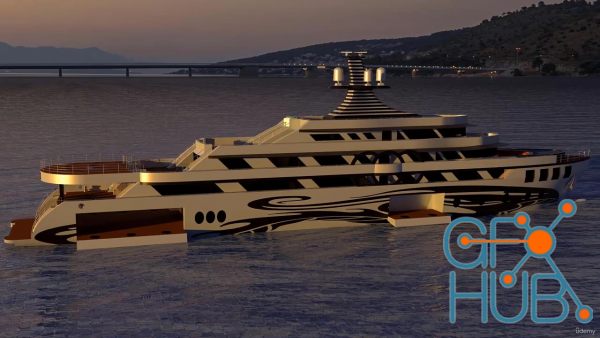 Mega Yacht Design and Engineering
What you'll learn
Now you are a professional designer and you have full control of the boat design process.
With the knowledge and experience you have gained here, you can have the chance to work in the best companies of the world in this field.
You can make your own designs and produce them in real life.
You can enable us to bring your projects to life by sharing your designs with us.
Requirements
No skills or experience are required. The course aims to equip all people, from 7 to 70, with or without the skill of a professional designer. All files used in the course are added to the resources section at the end of the course. In this way, students will be able to work simultaneously and achieve excellent efficiency. In addition, nothing was done randomly, all the technical parts were taken into account. As a result, you will be able to dominate the design process of a boat from start to finish.
Description
Halil Necati KARACA Presents With Respect...Welcome to our training, published for the first time on a worldwide online platform.Rhino is a 3D modeling program. We recommend that you do not think that you can only learn Rhino through this course. Because you will learn so much more.The aim of the course is to design a 74m Super Yacht realistically with all the details, using the modeling tools in the Rhino program. Boat design stages have been fully implemented. In addition, the differences with Commercial Boats in terms of modeling are also stated.At the end of all lessons, the files studied are uploaded to the resources section. In this way, it is aimed that you can progress simultaneously with education and reach 100% efficiency.This course aims to equip all people with the skill of being a designer. So whether you are seven or seventy years old, if you want to work in this field, this course will bring you to the level of professionalism.The main reason for training with a yacht is that we believe that designing is equivalent to a work of art. Think of the Rhino program as a canvas. This course is based on making you a professional painter. We believe that when you finish, you can shed light on the world with your art.We would also be proud to publish your design if you complete the course and send us a photo of your own design. In this way, we will be able to bring your design to life by sharing you and your art with potential customers all over the world.In addition to this course, if you want to fully understand the process and specialize in engineering calculations, you may be interested in our Maxsurf course. The same boat was used in both courses. The Rhino course offers basic calculations and design, and the Maxsurf course offers you the engineering of the business.We wish you to be one of the best in the world in this field...Halil Necati KARACA
Who this course is for
You can be an engineer, designer or even a middle school student for this course. If you are interested in design or engineering, we believe it will be a unique course experience for you.
Shipbuilding, Marine and Engineering, especially in the fields of Machinery, Industry and so on. It is suitable for Architects, Interior Architects and those interested in the field of Design/Design as well as Engineering.
It is suitable for people who have completed their studentship and have reached a certain professional experience.
It is suitable for anyone who wants to improve themselves in this field.
Download links:


Archive
« September 2023 »
Mon
Tue
Wed
Thu
Fri
Sat
Sun
1
2
3
4
5
6
7
8
9
10
11
12
13
14
15
16
17
18
19
20
21
22
23
24
25
26
27
28
29
30