ArtStation – Old Western Wagon Tutorial Full Process

2022-12-1

Video Tutorials
/
3D Tutorials

735

0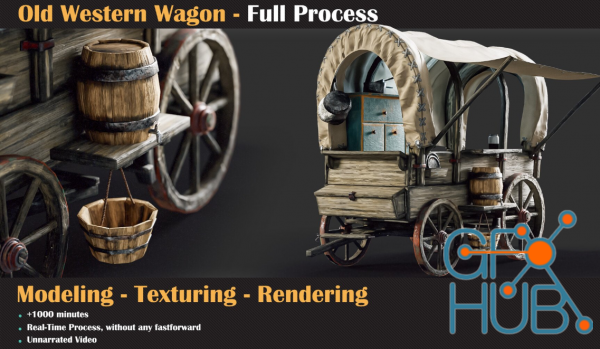 ArtStation – Old Western Wagon Tutorial Full Process by Milad Kambari
This is a full process of modeling, unwrapping, texturing, and Rendering an old western wagon. You should have basic knowledge of this software to follow up correctly. (17.5 Hours)
Tutorial Contents:
Modeling
+12 hours of modeling process of the old western wagon in the blender,3ds max, And Zbrush. Everything is clear, and you can follow up easily on the modeling process.
Unwrapping & Texturing
+ 4 hours of unwrapping in rizom UV and Texturing in Substance painter.
or each part we select the best choice for the workflow. at the first, we set our UV, and after that started baking high poly to low poly for this project and at the end work on the texture in substance painter.
Rendering
in the rendering phase, we select the best real-time render engine marmoset toolbag. After importing the model and textures we create materials and set light and camera for the final presentation.
Software Used:
Blender
Rizom UV
3Dsmax
ZBrush
Substance Painter
Marmoset Toolbag
Level:
Intermediate
Prerequisite Basic knowledge of the software used ( how to navigate and work with primary functions in them )
Attention: the final model and project files don't include this product.
Attention: all videos are unnarrated (it means there are no voice-over videos or subtitles)
Download links:


Archive
« June 2023 »
Mon
Tue
Wed
Thu
Fri
Sat
Sun
1
2
3
4
5
6
7
8
9
10
11
12
13
14
15
16
17
18
19
20
21
22
23
24
25
26
27
28
29
30