Udemy – Advance Zbrush Character Creation

2022-11-18

Video Tutorials
/
3D Tutorials

1 089

0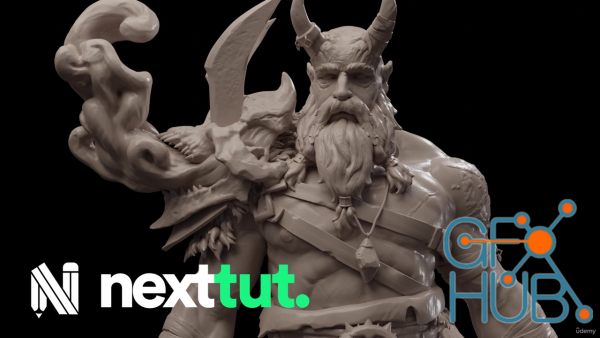 Character Sculpting in Zbrush 2022.
What you'll learn
Sculpt Male Anatomy
Create Armor , Props and Weapons
Understand Production needs and guidelines
Interpret a Concept to generate a production ready character
Render and present their work
Requirements
Basic Zbrush experience
Zbrsh 2022, Blender & Photoshop Software
Description
Hello Everyone and welcome to this very special course! If you've always wanted to learn about all the tools inside of Zbrush to create amazing characters then this is the course for you.About Me:My name is Abraham Leal, I have 11 years of experience in the industry and today I will be your instructor in this amazing journey. I Currently lead my own indie studio "Hyperlab" where we create VR and AR experiences.By the End Of This Course, You Will Be Able To:In this course I will guide you through all of the necessary steps to create a production ready high poly character. We will start with this amazing concept and we will build every single piece together. Not only will I teach the technical tools, we will also learn the proper mindset to analyse and create any type of character you can imagine.What You Will Learn:Throughout this course we will cover topics such as:AnatomyZmodelerProp ConstructionAsset ModularityMicroDetailsPosingAnd RenderingCourse Project Overview:We will start by creating the bases of our Character. We will then cover the whole Anatomy Buildup before we jump into creating all the different props. We will learn about armour, cloth, fur and weapons. At the very end we will about how to present our character in the best possible way,Who is This Course For?This course is aimed towards intermediate level students who want to push their artistic limits and create production ready characters. We will be focusing in the High Poly assets while maintaining things in line with the 3D Pipeline. We will study the anatomy of all the different parts of the Human Body as well as the Creation of Weapons, Armor, Cloth and accessories.Basic Knowledge of Zbrush is recommended as we will jump straight into the creation of the character. Other than that we will use PureRef, a little bit of Photoshop and Blender for the Render. You will of course need a tablet as well, either a pen display or a traditional one should be fine.Who is Not The Ideal Student For This Course?This course is not designed for absolute Zbrush beginners.What Are The Requirements Or Prerequisites For Taking This Course?I expect you to have some sort of basic Zbrush experience.You should have Zbrush 2022 installed on your computer.Join Me Now:Join me in this amazing journey and learn how to create the characters you have always wanted to create!
Who this course is for
This course is aimed towards intermediate level students who want to push their artistic limits and create production ready characters.
Download links:


Archive
« March 2023 »
Mon
Tue
Wed
Thu
Fri
Sat
Sun
1
2
3
4
5
6
7
8
9
10
11
12
13
14
15
16
17
18
19
20
21
22
23
24
25
26
27
28
29
30
31