Udemy – Sculpt 3D Printable Rogues With Zbrush And Autodesk Maya

2022-08-23

Video Tutorials
/
3D Tutorials

287

0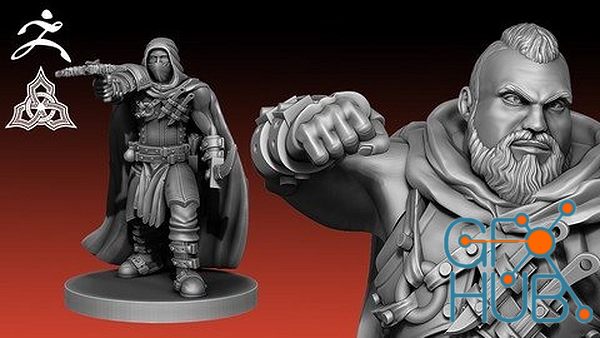 Free download video course by Udemy – Sculpt 3D Printable Rogues With Zbrush And Autodesk Maya – Create a Whole Thieves Guild of Unique Rogue Models.
What you'll learn
Learn how to digitally sculpt in the industry leading software: zbrush
Learn how to navigate zbrush
Learn to use many brushes: what each does and when to use them
Learn how to create many various weapons and armors
Learn how to pose your characters
Learn how to optimize your characters for 3d printing
Learn beginning skills of hard surface modeling in the industry leading software: Autodesk Maya
Learn to navigate Autodesk Maya
Learn how to export beautiful renders of your models
Requirements
Must be able to speak the English Language
Must have a computer with internet access
You will need access to Zbrush - free 30 day trial is available for first time users
You will need access to Autodesk Maya - free 30 day trial is available for first time users
A drawing tablet is highly recommended
Description
Created with the absolute first timer in mind, this course will teach you to become proficient in many of Autodesk Maya and Zbrush's more complex features - some of which are unknown to more advanced users. By the end of this course, you will have the knowledge and skills to create professional-quality 3D models fit for 3D printing and sales. This course builds on our previous course: "Sculpting Male Characters in Zbrush", but it is not necessary to have taken that class before this one. This course is completely approachable to a first time beginner using Zbrush and Autodesk Maya. Join our lead 3D Modeler Josh O'hala as he recreates the exact same Rogue models that we sell to customers as well as unique models created just for this course. You will be guided through our professional production pipeline:You will learn how to become comfortable navigating Zbrush.You will learn how to add simple geometry to your project which will be used later. Learn to create many weapons and Armors Learn to create various accessories to bring your Rogues to lifeYou will learn how to use many commonly used brushes as well as specialized brushes to create beautiful and accurate sculpts. The lessons learned will be reinforced as Josh guides you through creating many Rogue models. You will learn how to pose your Rogues to create many variations of models. You will learn how to optimize your models for 3D printing.You will learn the process of making your model 3D printable.and much more! visit us on youtube (runeforge studios) for examples of our models and tutorials.
Download links: