Udemy – Learn 3D Modeling From Scratch In Blender

2022-08-20

Video Tutorials
/
3D Tutorials

434

0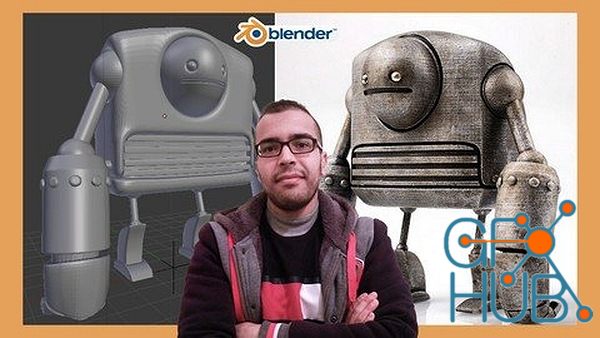 You'll learn how to model in Blender by Creating a full Robot Model from Scratch! No Prior Knowledge Required.
What you'll learn
Build an entire robot from start to finish, but first you'll learn how to Download and install blender on your computer.
Learn the basics of the interface of blender, how to manipulate objects and navigate in 3D space.
Work with polygonal objects and learn about their different components.
Organize your models into hiearchies and keep your scene clean and efficient.
Build complex objects from basic shapes.
Work with blender's awesome modifiers like the mirror and the subdivision modifiers.
Work with many of the commonly used tools in modeling including: extrude, loop cut and slide for adding resolution, inset and bevel and so much more.
Learn about the importance of smoothing and how that can affect the way we perceive our model.
How the placement of the edges on our model can be very crucial in getting the results that we would like.
How we can kind of anticipate what's gonna happen beforehand, before we add modifiers.
Learn about working symmetrically, and how we can save lot of time and effort by that.
Requirements
Motivation to learn ;)
PC or Mac computer
Any version of Blender
Description
Do you want to discover your True 3D Modeling Potential that is far beyond what you've ever imagined?My name is Anass Cherkaoui and I will be very glad to assist you and walk you step by step into the most entertaining field in the world.Blender is a very powerful 3d modeling, animation and rendering application. It can be used to create visuals for animation, special effects. You can create some stunning video games with blender. It can also be used for 3D printing, VR or Virtual Reality, ArchVIZ or Architectural Visualisation and so much more.Probably one of the best things is that Blender is completely free to use, it's an open-source application so you can download it whenever you want and use it on Mac OS Computer, Windows operating system or Linux.This course aims to take you in a journey through the main basic features of Blender to help you understand how 3D works and explains the fundamental concepts and skills that will allow you to create your own three-dimensional models in Blender.Learn how to create 3D Models and Assets for games using Blender and export your creations into any game engine, including Unity and Unreal.We start super simple so you'll be ok with little or no experience. With this course, you'll be amazed what you can achieve.The entire course is project-based, so you will apply your new skills immediately to model a real 3D Robot. All the project files will be included, as well as additional references and resources - you'll never get stuck. My goal as an instructor is to make sure that you are learning-by-doing and not just watching someone else make art.No matter what your background, your skills, or your interest, this course will give you a new set of skills that will make you a much more capable 3D Modeling Artist. It's structured as follows:Section 01: IntroductionSection 02: Getting Started with BlenderSection 03: Project OverviewSection 04: Working on the Body of the RobotSection 05: Modeling the HeadSection 06: Building the ArmSection 07: Building the LegSection 08: Optimizing the SceneSection 09: Assignment ProjectSection 10 (Bonus): More Cool Features in BlenderSection 11: ConclusionIf you're a complete beginner, I'll teach you all the modelling fundamentals you'll need to start expressing yourself through 3D artworks.Furthermore, the course comes with an assignment at the end, so not only will you build a solid foundation about 3D Modeling, but you will also get your hands-on practice creating your own 3D models.And as a gift from me to you, I will include a bonus section dedicated for some cool features within Blender that will make your life a lot easier when building your 3D Assets. So, What are you waiting for? Dive in NOW, you will not be disappointed!I can't wait to start this amazing journey with you. Let me help you build the necessary skills to start creating your own 3D Models TODAY.
Download links: