Udemy – Twinmotion: Easy Vr And 3D Rendering For Arch Viz Projects

2022-08-17

Video Tutorials
/
3D Tutorials

360

0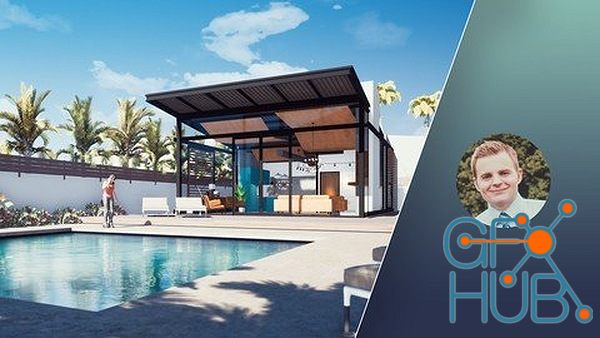 Use Twinmotion to quickly and easily translate your architectural models into photoreal renderings, animations and VR
What you'll learn
Take your architectural projects from simple 3d model to VR walkthrough quickly and easily
Create your first photoreal animations with twinmotion
Create photoreal still renderings easily using provided models, materials, etc.
Learn the ins and outs of the UI and every tool in Twinmotion
Requirements
You need to have a computer that can run a copy of Twinmotion (currently free to download)
Description
*Join this course now to get instant access to the project models, including many very high quality furniture assets for you to add to your library.WHY LEARN TWINMOTIONTwinmotion is a real time software, specifically aimed at making visualizations easier for architects who are untrained in 3d. The great strength of the software is its ease of use, and large library of 3d assets that can be used in any scene. So, if you are an architect, designer or 3d artist, jump into Twinmotion now and you will see that within a few hours you will be creating exciting imagery, animations and full virtual reality! WHY THIS COURSEPerhaps the most exciting thing about this course is that you will see exactly how to turn the provided model, and therefore any of your own models, into a finished product that can be proudly shared with clients, all in just a couple hours (or even faster). There is no prior expertise needed in 3d or this specific software. The goal of this course is to take you from nothing, to creating full VR walkthroughs, animations and still shots in a few easy steps. THE FORMAT OF THE COURSEAt first we will be learning the basics of bringing in our 3d models (there are a few tricks to get this just right). From there we will start exploring all the navigation, UI elements and tools in Twinmotion. We will also be adding to our own models with the vast library of models that Twinmotion provides. Next we will be adjusting the materials that come with the project models, adding custom ones, and using some of the provided library materialsWe will look at proper lighting, reflections, etcFinally, we will set up animations, still shots and VR, and examine the proper settings for creating a nice result that can be shared.We will go through all of this quickly and efficiently so that students can be up and running, visualizing their projects almost instantly.CONCLUSIONDon't waste your time (and $$$) fidgeting around in a new software, I've already done that for you. For a very good price, I'll teach you everything I know, and you can have all my models too (<--these took a long time to make and are high quality). You'll be confident in your Twinmotion rendering skills in no time.So, I'll see you in class!*Buy now for lifetime access to all current and future content of this course**Satisfaction guarantee. If you are not satisfied, request a refund within 30 days of purchase. No questions asked.NOTE: This course is offered by instructor Adam Zollinger, founder of Learn Arch Viz. Learn Arch Viz is an online resource for teaching and training architectural visualization pros and aspiring artists. Learn Arch Viz has 15 training courses currently in various different software. LAV has helped to train over 70 thousand students (!) around the world with the skills they need to be arch viz professionals.
Download links: