ArtStation – 1200 Practical Alpha Seamless and Tileable Stencil Imperfections (MEGA Pack) – Vol 11

2022-09-2

Textures
/
Texture collections

688

0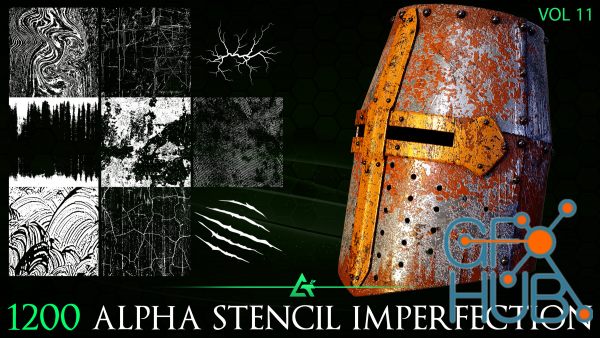 ArtStation – 1200 Practical Alpha Seamless and Tileable Stencil Imperfections (MEGA Pack) – Vol 11.
This Mega package, is the large and unique diverse collection of practical and high-end quality 4k of Seamless and Tileable Stencil Imperfections that you can have.
Having this Mega collection to increase your library and bring these cool alpha textures to your work.
Use these pack to quickly add creative details to your objects Which makes your models or environments look more realistic and has flaws!
Can be used on any software that supported alphas and png files like zbrush, substance painter, substance designer, blender, 3dsMax, Maya, 3D Coat, Marmoset, Modo and etc... .
Stencil Imperfections: Crack (Wall - Seamless Crack - Cracked Earth - Glass) - Dust - Rusty - Scratch - Claw Scratch
Grunge (Distressed - Dotted - Foam - Grainy - Dirty - Ink - Liquid - Smudge - Splash - Stone - Wood) + Cement + Concrete
This product (vol-11) including:
1200 Alpha Seamless and Tileable Stencil Imperfections that contains:
~ 80 Cement
~ 10 Concrete
~ 279 Crack
~ 33 Cracked Earth
~ 24 Glass Crack
~ 45 Seamless Crack
~ 12 Dust
~ 44 Distressed Grunge
~ 14 Dotted Grunge
~ 21 Foam Grunge
~ 11 Grainy Grunge
~ 119 Grunge and Dirty
~ 74 Ink Grunge
~ 20 Liquid Grunge
~ 79 Smudge Grunge
~ 61 Splash Grunge
~ 6 Stone Grunge
~ 37 Wood Grunge (Only these textures are not seamless)
~ 74 Rusty
~ 137 Claw Scratch
~ 21 Seamless Scratch
My Special Gift for You (to appreciate)
Details:
PNG / 32bit
Resolution: 4K (4096*4096) High-End Quality
Each one is neatly arranged in folders with own names
Download links: