Autodesk Inventor Professional 2023.2.1 Build 271 Win x64

2023-02-8

Softwares
/
Graphics-Design apps

306

0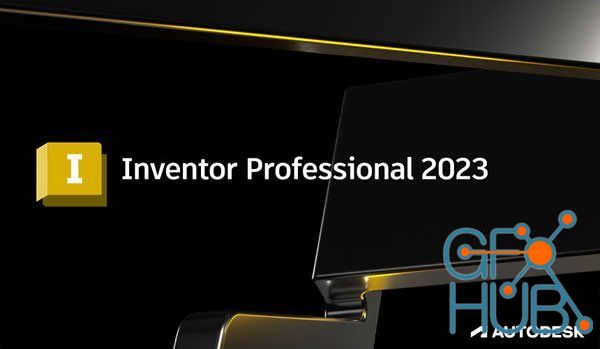 Autodesk Inventor Professional 2023.2.1 Build 271 Win x64
utodesk Inventor software provides professional-grade engineering solutions for 3D mechanical design, simulation, tool creation, and design communication that help you to make great products, cost-effectively, in less time. Inventor is the foundation of the Autodesk solution for product development. The Inventor model is an accurate 3D digital model that enables you to validate the form, fit, and function of a design as you work, minimizing the need to test the design with physical prototypes.
Features and software features Inventor Professional Autodesk
-User interface is suitable for quick learning
-has a geometric modeling kernel using Autodesk ShapeManager
-Coordination with various CAD software
-includes the following major sections
-Part Modeling:the first part of the work of the most complete mechanical design and modeling environment
-Assembly:assembly designed with specific instructions with access to standard software library includes hundreds of thousands of pieces
-Drawing:the facade of components designed for applications such as AutoCAD and allows output
-Sheet Metal:Vrqkary design and take the form of spreadsheets Khrvjygrftn
-Weldment:welding standards as well as possible gaps between the two pieces of welding
-Presentation:Animation parts and burst modes
-Piping:Piping advanced and easy design path with the latest standards Piping Pipes
-Frame Generation:professional design of structures and frames with complete tools ready
-Inventor Studio:construction project designed videos from all views
-Dynamic Simulation:Analysis of Energy and behavior in non-fixed parts
System Requirements
- OS: Microsoft® Windows® 10, 11
- CPU: Recommended:3.0 GHz or greater, 4 or more cores / Minimum:2.5 GHz or greater
- Memory: Recommended:20 GB RAM or more / Minimum:8 GB RAM for less than 500-part assemblies
- Graphics: Recommended:4 GB GPU with 106 GB/S Bandwidth and DirectX 11 compliant / Minimum:1 GB GPU with 29 GB/S Bandwidth and DirectX 11 compliant
- Display:Recommended:3840 x 2160 (4K); Preferred scaling: 100%, 125%, 150% or 200% / Minimum:1280 x 1024
NET:.NET Framework Version 4.7 or later. Windows Updates enabled for installation.
Spreadsheet
- Full local install of Microsoft® Excel 2010, 2013 or 2016 for iFeatures, iParts, iAssemblies, Global BOM, Parts Lists, Revision Tables, spreadsheet-driven designs and Studio animation of Positional Representations.
- 64-bit Microsoft Office is required to export Access 2007, dBase IV, Text and CSV formats.
- Office 365 subscribers must ensure they have a local installation of Microsoft Excel 2016.
- Windows Excel Starter®, OpenOffice®, and browser-based Office 365 applications are not supported.
List of changes made
- The original Russian and English distributions have been merged into one.
- For a modern installer, a solution was developed and implemented for choosing the interface language of the program being installed.
- The interface language of the installer itself is set based on the OS interface language.
- Removed Autodesk Desktop App module from installation package.
- Removed Autodesk Genuine Service module from installation package.
- Removed Autodesk Single Sign On Component module from installation package.
- Inventor 2023.2.1 Update has been integrated into the installation package.
- Updated Autodesk DWG TrueView module from version 24.2.50 to version 24.2.153.
- Updated Autodesk Licensing Service module from version 12.0.0.6529 to version 12.1.0.7121.
- Updated Autodesk On-Demand Install Service from version 1.27.0.558 to version 1.35.0.9.
- Installer updated from version 1.27.0.4 to version 1.30.0.5.
- Everything you need for treatment, including detailed instructions, is inside the image in the Crack folder.
Download links:


Archive
« March 2023 »
Mon
Tue
Wed
Thu
Fri
Sat
Sun
1
2
3
4
5
6
7
8
9
10
11
12
13
14
15
16
17
18
19
20
21
22
23
24
25
26
27
28
29
30
31