GRAITEC TrepCAD 2022 Profressional v22.0.315.0 Win

2023-01-9

Softwares
/
Graphics-Design apps

202

0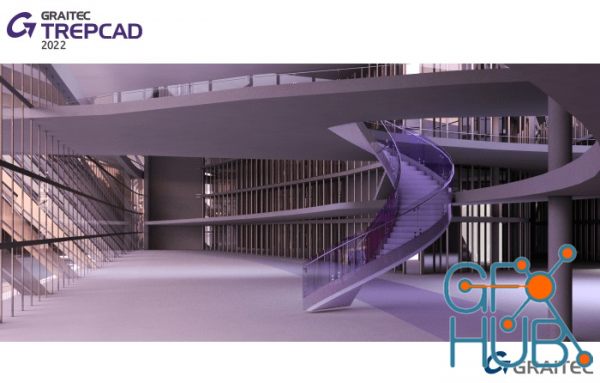 GRAITEC TrepCAD 2022 Profressional v22.0.315.0 Multilanguage Win
TREPDCAD is the staircase construction software from GRAITEC, especially for the construction of steel staircases and the combination of wooden and steel staircases. Construct your staircase in the shortest possible time and without any CAD knowledge. Assemble freely selectable stair shapes from basic elements such as arches, corners or straight pieces. TREPCAD offers a wide range of floor plan and construction variants. In just a few minutes, TREPCAD automatically creates a floor plan, beam / stringer drawings, step plans and detailed parts lists with section information
Create different stair shapes and styles - such as saddled stairways and stairways with intermediate steps, both as a stringer and as a spar. Coiled and straight-running can be constructed, with up to five corner angles with or without an exit platform. Connected staircases over several floors are also possible.
Combine with pedestals and edit the corners. You get the profiles from extensive profile libraries. Different levels and level requirements can also be selected. Profiles, drawings and all other settings are displayed in detail. Entries made can be checked and changed at any time. The norm of the project is already checked during the input.
The finished staircase can be presented in a 3D view with the real dimensions and from all perspectives without wasting time. In addition, the 3D data and drawings of the stairs can be imported into other steel and metal construction programs via various interfaces such as DSTV, DXF.
All profile information (e.g. profile type and size) is also transferred via compatible programs such as Autodesk Advance Steel and can be further processed.
Download links:


Archive
« March 2023 »
Mon
Tue
Wed
Thu
Fri
Sat
Sun
1
2
3
4
5
6
7
8
9
10
11
12
13
14
15
16
17
18
19
20
21
22
23
24
25
26
27
28
29
30
31